Winners of the Tiger Stripe Challenge!
The technique for the December Soap Challenge Club was tiger stripes – including modifications. The tiger stripe creates stripes of color down the length of a log mold that can range from quite thin to what you might think of as a "real" tiger stripe. Members could choose to leave their stripes intact or modify them once poured or use dividers to create interest – as long as the stripes were evident in the majority of the soap. As you might imagine, there are some really fascinating and unique looks!
The challenge was divided into two categories: newbies (soapmakers who have been making soap for less than 2 years and/or fewer than 50 batches) and experienced (everyone else!). We are so grateful to our sponsors for their generous prize packages! Custom Soap Stamps is an up-and-coming supplier with everything from custom soap stamps, as the name suggests, to multi-bar soap cutters and more! Alex Kelly's specialty is working with acrylic, so everything he makes is incredibly sturdy and will last a lifetime. Thank you, Alex, for sponsoring the newbie category! Nature's Garden is a well-established supplier for candles and bath and body products, known for their huge inventory of fragrances. Thank you, Deborah, for sponsoring the experienced category!
When I announce the results you might not be able to tell the difference between the categories – there are outstanding soaps in both! Let's start with the newbies. They are all first time winners in the Challenge Club:
The grand prize winner is Nicole Lankenau of Nicole's Artisan Soaps in New York! Her Orange Spiced Tea Tiger soap combines all the colors and patterns of a real tiger, and you can see the unique diagonal pattern she achieved:
Nicole wins a $100 gift certificate from Custom Soap Stamps – congratulations!!
Second place goes to Cheryl Wetzler of Saponaceous Soap in Pennsylvania. Cheryl's innovative ombre technique with thin black lines between each color earned her soap the name Zombré:
Custom Soap Stamps is providing a $75 gift certificate for Cheryl – yippee! Check out her Instagram post to read more about this beautiful soap by clicking on the photo.
In third place, we have Liz Greco in New Jersey!! Liz's soap has an abundance of thin lines in gorgeous contrasting colors. The order of the colors gives the design a very fluid movement: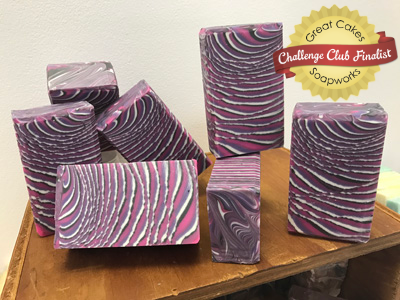 Congratulations, Liz, on your $50 gift certificate prize! Click on the photo to read more about the ingredients Liz used for her soap.
Finally, the Sponsor's Choice prize has been awarded to Savie in Michigan! Her gorgeous Bengal Tiger Stripe soap has all the markings of a beautiful wood grain, and the table she chose to pose it on just reinforces that look. Alex said this about her soap: "Great colors and pattern. Presentation is really important and that also stood out to me. Well done all around!"
Savie wins a $25 gift certificate – woo hoo!! Take a look at both of the soaps she made for the challenge by clicking on the photo – she made one with peacock colors that turned out fantastic as well!
In the experienced category we have more excellent tiger stripe soaps!! In fact, our grand prize winner is none other than Carolyn Newton of Siennalily Soaps in Spain! She created a simple black, grey & white double tiger stripe soap with flawless lines:
Congratulations, Carolyn, on winning a $100 gift certificate from Nature's Garden! This is Carolyn's third time placing in the top three, and she has also been awarded two Sponsor's Choice prizes in past challenges. Please click on the photo of her soap to read more on her blog about how the soap was made and the newly renovated room in her house that inspired her.
In second place is our resident rainbow soap queen, Lisa Norris of Kangaroo Apple Soap Studio in Australia! She did not disappoint with her gorgeous stripes of rainbow colors which she somehow manipulated into a tiger moth:
Lisa wins a $75 gift certificate from Nature's Garden! This is her 10th time placing in the top three, which I'm pretty sure is a Challenge Club record – congratulations!! Please read more about how Lisa's soap was made by clicking on the photo to see the post on her Facebook page.
Third place goes to one of our most supportive members who has been part of the Club for about a year and a half. She has not only given me valuable feedback about the Club, but she is always very encouraging to the other members and gives out helpful advice on our Discussion Board. Congrats goes to Sylvia (Sly) Otykpa of Soaps by Sly in Colorado for her mesmerizing Smokey Bay Leaf soap made with the tilted tiger stripe method:
Nature's Garden is providing a $50 gift certificate to Sly for her fantastic work – her first time to placing in the top 3! Click on the photo to read the details on her blog about all three soaps she created for this challenge.
The recipient of the Sponsor's Choice award is a brand-new member, Krista Scott of Georgia Soap Creation in Georgia, of course! Her Snowman Bliss Tiger Stripe soap spoke to Deborah Ward, and as she put it, "I just LOVE snowmen, and this soap is adorable and stunning! Just perfect for the holiday season!"
Congrats, Krista, on your $25 gift certificate from Nature's Garden!! Feel free to click on the photo to get a closer look at Krista's soap on Instagram.
Ready to see the rest of the amazing tiger stripe entries? The Newbie entries are HERE, and the Experienced entries are HERE.
So, I'm sure many of you are wondering what's in store for 2017! I have the next three months of challenges lined up for you, and the one for January is going to be completely different than anything we've ever done before! I'm calling it the Collaborator's Challenge, and you're going to need a collaborator to accomplish it. In other words, you get to make soap with a friend or family member!! I'll have the details all laid out soon, but your collaborator must be at least 18 years old. It can be someone who has made soap before, as long as it's someone who typically doesn't make soap with you. The idea is to work together from start to finish. I asked my husband, Kent, to make soap for the very first time for the video tutorial and he did an excellent job! He chose the dancing funnel technique, and here is his soap in the mold:
Kenna from Modern Soapmaking and I will be co-sponsoring this challenge as we have been collaborating on this challenge idea since we made the wood grain soap together in October! Prizes will be divided between you and your collaborator and will include the following:
Grand prize – $50 gift certificate from MS for you/$50 gift card from Amazon for your collaborator
Second place – $40/$35
Third place – $25/25
Sponsor's Choice – Kenna will choose three entries to receive a printout of her Honey & Beeswax soap tutorial, plus two bars of soap made with the technique so you can make another soap with your collaborator if you choose!
I will also provide a "recruitment" video to show the person you wish to join you in this challenge so they can be encouraged to participate! (If for some reason they actually need encouragement!)
In February, we will be doing CP + MP Designs. The challenge will be divided between newbies and experienced soapmakers once again and Majestic Mountain Sage will sponsor the newbie category. Elements Bath & Body is a new sponsor and they will provide prizes for the experienced category.
The challenge technique for March is Secret Swirls. This time the challenge will be divided between soaps made with all natural ingredients and those that are colored and/or scented with synthetic ingredients. Brambleberry is our sponsor for the natural category and Nurture Soap will sponsor the synthetic category.
Registration will open Monday, January 2nd for all three months or just January. If you haven't signed up for Challenge Club notifications yet, which also includes tutorial sales, here's the link: