Winners of the Collaborator Challenge Announced!
The January challenge was completely different from any other challenge we have ever done before! It was inspired by the experiences that Kenna of Modern Soapmaking and I have had making soap together. Each member had to find a friend or family member who doesn't typically make soap with them to be their collaborator and create any cold process design they wanted, showing proof of their collaboration with photos or a video. The stories and soaps that came out of this challenge have been very inspiring!! I sent out a survey as well to get feedback from members and overwhelmingly the best part of the challenge was being able to share their craft with a friend or family member, and many also mentioned feeling inspired and enjoying the process of bouncing ideas off each other. The hardest part was making the time to get together and for the member to be able to back off and allow their collaborator to do some of the work!
Kenna and I co-sponsored this challenge, offering gift certificates to Modern Soapmaking for the winning members, and Amazon gift cards for their collaborators. Kenna also picked three entries for her Sponsor's Choice prizes which include a printout of her Honey & Beeswax soap tutorial and two bars of soap made with the tutorial so that the winners can make another soap together if they wish! Thank you, Kenna, for the idea for this fun challenge and for sponsoring it with me!!
Now for the winners…it's been awhile since this has happened, but we actually had a TIE for FIRST PLACE!! Both of the winners are well-deserved, as their soaps are incredible!! Congratulations goes to Lisa Norris of Kangaroo Apple Soap Studio and her friend Rebecca (Beck) and to Debi Olsen of Me Do It Meself and her daughter Hayleigh!!
Lisa and Beck spent several hours on a hot day in Australia making their soap, including a trip to the local river beach to cool off! Lisa says: "Beck chose the design – an EIGHT layer diagonal rainbow soap inspired by Pink Floyd's Dark Side of the Moon – and the essential oil blend of rose geranium, tenfold orange, frankincense, cedar and clove. We knew the essential oils would set up fast owing to the clove and rose geranium, plus it was HOT here in Sydney Australia that day…this was heaps of fun."
Lisa wins a $50 gift certificate from Modern Soapmaking and Beck wins a $50 Amazon gift card – woo hoo!! Click on the photo to see Lisa's Facebook album to read more about how their soap was made.
Debi and Hayleigh's soap is an impressive bowl of Fruit Loops cereal – all made with cold process soap! Debi says, "We both could not be more pleased with the outcome of our final soap! I think what thrilled me the most is this was a complete and total collaboration. I did most of the set-up and the technical part of the process such as mixing the colors, and setting up the oils and lye, but Haleigh did all the mixing and most of the pouring. We both contributed ideas and solutions equally and we combined efforts putting everything together. This was definitely a team effort!"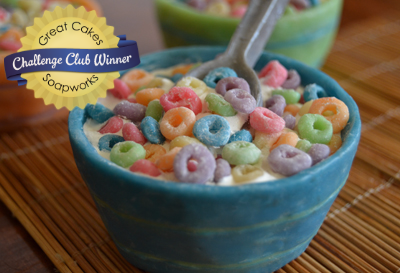 Debi and Hayleigh win the same prize package as Lisa and Beck, and you can read all the details about how they made their soap by clicking on the photo to read Debi's blog post. Congrats, ladies!!
Our second place winners are Claire Edmunds of Saponista and her friend Anna with their beautiful Ebru soap, inspired by one of Anna's paintings! Claire says: "I love to take part in soap challenges as it allows me to really express my creativity and at the same time enhance my soapmaking skills. I don't get much chance to do this within my business as I have to stick to my strictly regulated cosmetically certified recipes for the soap I sell via my website…I really enjoyed working with Anna as I usually have to work on my own, it was so much fun and I would love to do it again."
Claire wins a $40 gift certificate from Modern Soapmaking and Anna wins a $35 Amazon gift card!! If you click on the photo of their soap, you can read more of Claire's blog post and see the video of them making their work of art!
Third place goes to Tatiana Serko of Creative Soap by Steso and her husband Sergei. Sergei was very enthusiastic about participating in the challenge. He took a couple of tries to create a soap of his liking and chose to do a drop swirl design for the entry. He even wrote the blog post about how his soaps were made! Sergei says, "Before this challenge I think soap making is easy. When I saw how my wife made it. But after I tried myself I realised it can be quite hard. You need to do several things at once and fast, otherwise soap can become hard and you can't pour it into mold. I like that I spent this time with my wife. We both work a lot so time we spent together is very valuable for us. I love my wife and see her smiling face when I get my soap from mold was great."
Tatiana wins a $25 gift certificate from Modern Soapmaking and Sergei wins a $25 Amazon gift card – congrats!! Yes, you can click on the photo of the soap to read more about Sergei's first soap adventure!
Finally, we have our three Sponsor's Choice prize winners!!! Kenna spent two hours poring over the entries, taking the time to read about each one's experience – she said choosing just three was SO HARD. Congratulations goes to Lynlee Sky and her husband Jimmy, Melissa Berkowitz and her friend Lauren, and Alicia Davis of Pixie Soap Shop and her husband Jerome! Here are their soaps (linked to their blog posts and Instagram) and what Kenna had to say about their entries:
Kenna says, "I love how Lynlee and Jimmy put together their skills to create a masterpiece together. Most folks know that I'm a no-nonsense soapmaker, and the amount of work that went into this… just wow!"
Kenna's feedback: "Lauren & Melissa showed off the epitome of collaborating to me: learning from each other! When Amy and I soaped together for the first time, I was amazed at how different we did things even though we were both experienced soapmakers. So seeing two relatively new soapmakers (somewhat new and completely new) work together, and then enduring a fragrance seize, was awesome!"
Kenna says, "I love that Alicia talked Jerome into participating in this challenge. Sometimes, getting our family and friends involved can help them understand our interests better. High five for Alicia pulling him in, and Jerome for giving it a shot!"
Thanks to everyone who participated in this unique type of challenge!! We might have to do it again some time…
If you'd like to see the rest of the entries, read some really great stories, and see some fun videos, please check them out HERE.
Registration for the February and March challenges opens Monday, January 30. For February, we are doing CP + MP Designs. Anything you can imagine combining these two forms of soapmaking is possible with this challenge! I just love the magma style, so for the tutorial I've created this soap:
This challenge will be divided between newbies and experienced soapmakers and Majestic Mountain Sage will sponsor the newbie category (those who have made soap for less than 2 years and fewer than 50 batches). Elements Bath & Body is a new sponsor and they will provide prizes for the experienced category (those who have made soap for 2 years or more or more than 50 batches). Both sponsors offer MP soap bases, so hit them up! (Click on the photo for more info about this challenge and the one in March.)
If you haven't signed up to receive notifications about the Challenge Club, here's the link to do so: