Cold Process + Melt & Pour Soap Design Winners
The February soap challenge was to combine cold process with melt & pour soap to create a cohesive design. These two mediums are completely different in a lot of ways, and yet each has definite advantages and benefits to create artistic soaps. Members were given ideas of what they could create, but had license to come up with a completely unique design! Normally, the Soap Challenge Club techniques are limited to cold process, so quite a few members found themselves working with melt & pour base for the first time – which ended up being a really good thing! It was a great experience to debunk these common myths about melt & pour soap base: 1. The ingredients are chemically derived and not good for your skin, and 2. It's such a simple process to melt and pour the soap base so it's only for beginners. Neither one of these is true!
We divided the challenge into two categories: newbies and experienced. Newbies were defined as those who have been making soap for less than two years and have made fewer than 50 batches. Everyone else was considered experienced. Huge thanks goes to our sponsors this month! Majestic Mountain Sage is your one-stop supplier for soap and cosmetic making materials out of Utah. They sponsored the newbie category. Elements Bath & Body has been selling soap supplies out of Colorado since 2002. I'm so grateful they stepped in as a new sponsor for the experienced category since they carry a wide variety of melt & pour soap bases – including an all-natural one! Both of these sponsors ship internationally as well, so be sure to check out their websites!
Time to announce the winners! I'll start with the grand prize winner in the newbie category…congratulations goes to Margot Blubaugh of Marvelous Soap in Minnesota for her outstanding Amethyst and Amber soap! Her inspiration was a chunk of amethyst, which happens to be her birthstone! Margot comb
Margot wins a $100 gift certificate from Majestic Mountain Sage! Be sure to click on the photo to read more about how she created her soap on her Facebook page.
In second place we have Cheryl Wetzler of Saponaceous Soap in Pennsylvania. Cheryl took second place in the newbie category of the Tiger Stripe challenge just two months ago! This time her soap features diagonal layers of cold process and melt & pour soap, and the light shining through from behind truly looks like a sunrise as she has aptly named it:
Cheryl's prize is a $75 gift certificate! Her photo is linked to her post on Instagram if you'd like to find out more about it.
Third place goes to Jessica DeLeon of Moose Country Designs in Maine! Congratulations, Jessica, for creating such a beautiful prize-winning soap in your first challenge! She built this fabulous gumball machine entirely out of cold process and melt & pour soap:
Jessica wins a $50 gift certificate from Majestic Mountain Sage! Woo hoo! Click on the photo to read about her process on her Facebook page.
Finally, the Sponsor's Choice prize goes to Shayla Gauthier of Black Gold Soap Co. in Alberta, Canada for her soap creation featuring Ursa Major! It's a beautiful galaxy soap, featuring the Ursa Major constellation (aka the "Big Dipper") on each bar:
Tina Howard of Majestic Mountain Sage says, "Wow! That took some planning and was awesome!" and Shayla wins a $25 gift certificate from them! The photo is linked to Shayla's blog post which demonstrates how she created this stunning soap – and you can see a photo of the light shining through one of the bars, showing off the constellation.
And now…the experienced category! You will be stunned to see all these fabulous entries as well! Grand prize goes to a brand-new member, Maja Zuvela-Aloise of Bubbledream in Austria! Maja's combined cold process soap shavings and embeds into a melt and pour soap base created this beautiful Tree Landscape soap:
Congratulations to Maja for winning a $100 gift certificate from Elements Bath & Body! Feel free to click on the photo to read more about how she made this soap on her Facebook page.
Second place in the experienced category goes to Bannatyne Matson of Homely Animal Soap Shop in Utah! This is her fourth time receiving a prize in one of the top two places, and her Think Spring soap is definitely worthy of the prize! Bann created a beautiful stained glass masterpiece using cold process for the "lead" and transparent melt & pour for the glass:
Bann wins a $75 gift certificate from Elements!
Congratulations to Tatiana Serko of Creative Soap by Steso in California for her third place finish because of her "Love, love, love…" CP + MP Design soap! She is a very talented soapmaker, placing six times in the challenges, and participating as our guest teacher four times! This ultra-complex soap was made by combining a rimmed soap technique with melt & pour base for the rim, and a nearly translucent cold process center with a cute double-heart MP embed on the surface. Check out the stunning result: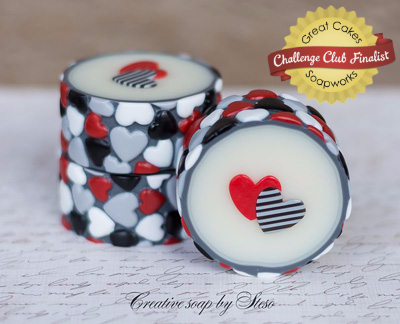 Tatiana's prize is a $50 gift certificate – woo hoo! Click on the photo to see how she made her soap, as well as one other with a different color palette.
The Sponsor's Choice prize for the experienced category goes to a well-deserved recipient as well. Tammy Tivis of Elements Bath and Body recognized how unique and special this soap is when she said, "This stunning soap pushes the boundaries and gives us a totally new technique based on gelatin art. It looks like it was very painstakingly created; this soaper is indeed an artisan. I'm certain many soapers will want to learn this technique." I'm sure she's right! The soap she is referring to is this 3D Shower Jelly soap created by Helene Glemet of ChezHelene in Quebec, Canada: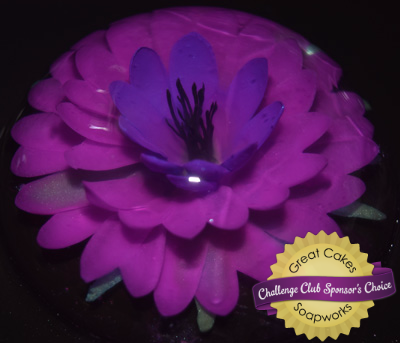 Congratulations to Helene for creating such a stunning soap! Her prize is a $25 gift certificate from Elements! Get more information on how she created the soap by clicking on the photo.
The results of the rest of the challenge entries can be found HERE for the newbie category, and HERE for the experienced category. Be sure to check out all the beautiful entries!
The challenge for March is called Secret Swirls! It will be divided between soaps made with all natural ingredients and those that are colored and/or scented with synthetic ingredients. Only one entry per member. Brambleberry is our sponsor for the natural category and Nurture Soap will sponsor the synthetic category. (Prize packages will be announced soon!) This is an advanced technique, but anyone is welcome to join us! I will do my best to give as many helpful tips as possible to give you success! Here is a soap I created with the Secret Feather Swirl in 2014: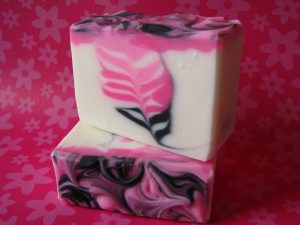 Registration for this challenge is just $6.95 and will open Monday, March 6. Here's the link to receive a notification: