Cosmic Wave Soap Winners Announcement
For the Soap Challenge Club in November, we tackled a technique called Cosmic Waves. One of the co-creators of this technique, Tatsiana Serko of Creative Soap by Steso, was our guest teacher. The process is a variation of an in-the-pot swirl that creates stunning results, but it was definitely harder than it looked to get the desired outcome! Mad Oils was our fabulous sponsor, offering some really great gift certificates for our voted winners and Mad Oils aprons for their Sponsor's Choice winners. That's right – Joanna asked if she could choose 3!! More prizes? Of course!
And now for the announcements you've been waiting for….
Congratulations goes to Bann Matson of Homely Animal in Utah for winning the Grand Prize!! Her Blitzen cosmic wave soap has absolutely stunning lines and colors:
Bann wins a $100 gift certificate from Mad Oils – hooray!! Please click on the photo to read more about how she made it.
In a close second is Debi Olsen of Me Do It Meself in Colorado! Debi is a long time member of the Challenge Club and her obsession with creating beautiful soaps has rewarded her several times in the course of the challenges. Her Cosmic Sherbet Wave soap is no exception:
Debi's prize is a $75 gift certificate from Mad Oils! Click on the photo of her soap to read ALL about her process. She provides many generous details in her blog post.
Third place was so close!! The winner by just one vote is….Laura Sidor of Lolly's Soaps & Such in Illinois! Laura created a lovely Guardian Angel Cosmic Wave soap with a sparkling gold mica accent:
Laura wins a $50 gift certificate from Mad Oils! You can click on the photo to read more on her Facebook page.
And now for the Sponsor's Choice prize winners!! First up is Carolyn Newton of Siennalilysoaps in Spain with her Banos Arabes Cosmic Wave soap. Joanna from Mad Oils says, "The color choices and execution of the technique looks like you have been doing this for years!"
The next winner is Joanna Humieniuk of Iriy Soapworks in Illinois with her Energy soap. Joanna says, "We aren't sure how you managed to get that many colors cram-packed into this technique without it all going grey or brown. Well done!!"
The third and final winner is Martha Brogdon in Texas with her Moonlight Madness Cosmic Wave soap. Joanna says, "This one reminded us of the texture of a vinyl album when the light gets captured on the vinyl while spinning. Well executed technique with your own kind of curvaceous flair. Keep up your rich talent!"
All three winners will receive a Mad Oils apron as their prize!! (These aprons are NOT for sale, but you can get one for yourself with an order of $250 or more while supplies last!) You can also click on the photos of each of these soaps for more information about the inspiration behind each one and how they were made.
The rest of the entries are wonderful as well! I know you want to see them, so please go HERE to check them out!
Our next challenge in December will be all about Tiger Stripes. We will be dividing the challenge between newbies (making soap for less than 2 years or fewer than 50 batches) and experienced (everyone else!) soapmakers. Custom Soap Stamps is the sponsor for the newbie category and Nature's Garden will sponsor the experienced category.
So far I've made two soaps for the video tutorial: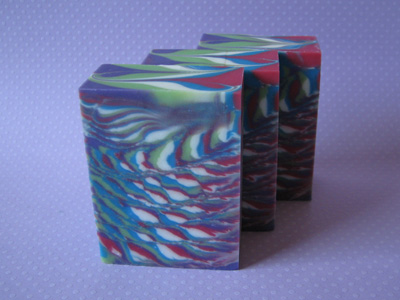 You can do modifications of the Tiger Stripe method like the ones shown above, or go with the original method. For more information, visit the Current Challenge page. Registration opens Monday, November 28!! If you haven't signed up for notifications about the Challenge Club yet, you can do that here: