My friend Summer came to visit me over the weekend. We first met in 2005 when she was living in Olathe, and she came to my booth at the farmer's market to buy soap. It wasn't long after we decided that we were going to be really good friends that she and her family had to move away. We try to get together at least once a year, but a full 18 months passed since the last time we saw each other. Her one request was to be able to go to the farmer's market with me while she was in town.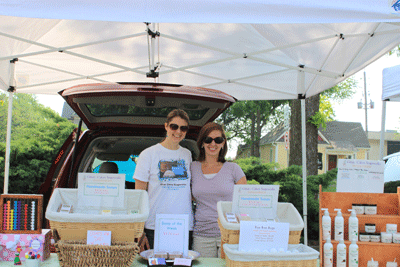 We did some other fun stuff too – including making soap! Summer has been buying soap from me for six years and had never watched me make soap before, so I decided to take full advantage of the situation and made her my official assistant as a SOAP Panel member.
First, we got out the bottles of fragrance and I had her tell me her impressions of the scents. Her comment was "this is harder than I thought!" – to which I fully agreed.
Here are her comments: (you can see my comments here)
#1 – Buttercream with a hint of citrus – orange julius type (she likes)
#2 – Lemon cleaner
#3 – Sweet… (likes)
#4 – Berry – maybe blueberry? (dislikes)
#5 – Wassail-like…some floral notes?
#6 – Juicy Fruit; chewing gum
#7 – Alcohol (dislikes)
#8 – Warm, winter-type scent
I showed her how I make soap: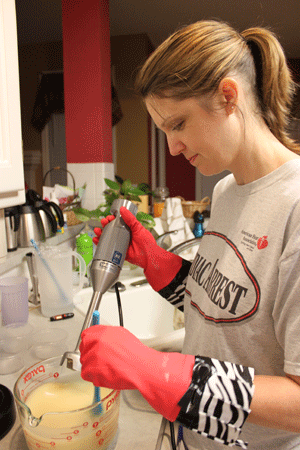 Then I let Summer give it a try:
Summer took photos of each cup of soap right after we mixed in the fragrance:
Here is what we observed:
#1 – Turned bright yellow initially, then mellowed to tan. Still smells like orange julius, but the butter note has disappeared.
#2 – No discoloration or acceleration – Still smells like lemon cleaner!
#3 – Turned lemon yellow – Still smells really good – tropical fruity
#4 – No discoloration or acceleration – Mellowed nicely in the soap. Still a tart berry fragrance, but not so in-your-face.
#5 – Turned very light yellow – Smells citrus-y and a little bit floral. (Summer takes back her comment about the wassail-type smell.)
#6 – Turned golden yellow – Still reminds Summer of chewing gum. Maybe that's what I smell too, but I still can't put my finger on it.
#7 – Accelerated and heated up, but no discoloration!! (Summer loves this one now – she says it smells like a warm, cinnamon twist, and I would have to agree! It's a very nice bakery scent.)
#8 – No discoloration or acceleration – this one smells like tart green apple to me. We compared it to a Green Apple fragrance that I had in my stash, and Summer liked that one better than this one. However, I say if this truly is an apple fragrance, it was a breeze to work with! I've never had an apple fragrance that didn't want to seize and that didn't morph.
Here are all the soaps after they were poured and set up:
I'm really loving all of them, but I'd have to say my favorite scents are #1, 3, and 7. Just wish #7 would have behaved! I was expecting it to turn color, but it really has stayed a nice creamy white. If I had to pick, I'd say my least favorite would probably be #2.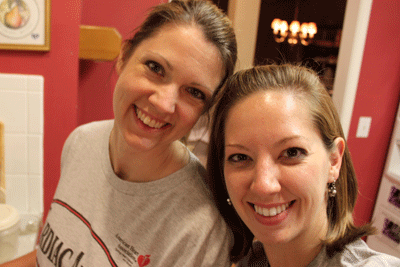 For my next experiment, I'll have to go it alone. I had to take Summer back to the airport this morning. Very sad. But I'm planning to add the fragrances to my Hand & Body Lotion base and see how they smell on the skin. Gotta love the experiments!