Soap Challenge Club Wood Grain Winners
The challenge for October was to create soaps that look like real wood grain. Members were given a variety of techniques to choose from and given pretty free reign to do what they wished to achieve the desired outcome as long as the soap was made with the cold process method and featured a wood grain technique. The entries were divided into two categories: soaps made with all natural ingredients and those that had synthetic colors and/or fragrance added. Huge thanks to our sponsors!! Modern Soapmaking was a new sponsor this month for the natural category, which came at the perfect time as Kenna has been coming out with new resources for soapmakers using essential oils, including her newly released book, Smellgoods: How to Use & Blend Essential Oils in Handmade Soap & Skincare available for pre-order HERE. Long-time Challenge Club supporter Bramble Berry sponsored the synthetic category with a combination of gift certificates and various sizes of their wood molds. Clever, right?
There were significantly more entries in the synthetic category, and I will start with those winners first – mostly because ALL of them are first-time winners in the Challenge Club!!
Taking home GRAND PRIZE is Nancy Jameson of Artwork Soaps in Texas, and indeed Nancy's soap is a work of art! She created a beautiful tulipwood soap for the challenge, scented with a Cedarwood and Patchouli fragrance. Take a look:
Nancy has been participating in the challenges for quite a while, so it's very exciting that she is finally taking home a prize – congratulations!! Nancy wins a $75 gift certificate, plus a 9-bar wood mold with silicone liner from Bramble Berry! Be sure to click on the photo to read more about Nancy's process on her blog.
In second place is Sarah Riedel in Sweden!! Sarah is fairly new to the Challenge Club, but has already shown herself to be a contender! Her soap, titled "Forest Walk" might have you fooled into thinking it is real wood if you didn't know it was soap: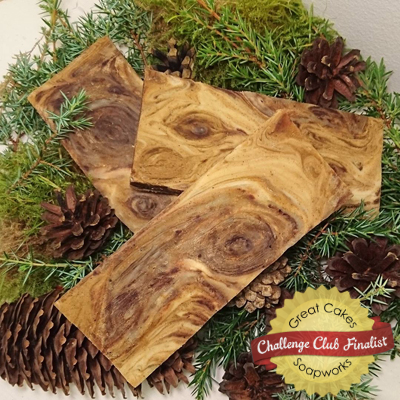 Since Sarah lives outside the U.S. she wins a gift certificate equivalent to a 5-lb wood mold with silicone liner + $50 from Bramble Berry. What a great prize!! Click on her photo read more about the soap on her Instagram post.
Third place goes to Kate Munroe in Rhode Island – a first-time member of the Challenge Club! Her soap looks like blocks of wood straight from a tree – bark and all! You'll want to click on the photo to read more about how she did it:
Congratulations to Kate on winning a $25 gift certificate, plus a 2-lb wood mold with silicone liner from Bramble Berry! Fantastic work!
The Sponsor's Choice winner from Bramble Berry is Julie Miller in Pennsylvania, another first-time Challenge Club member, for her Autumn Woods soap! Amber Strawn speaks for her team at Bramble Berry when she says, "We love the unique and creative design. The 'knots' in the wood add interest and texture, and the colors are vibrant and perfect for fall!"
You'll have to be a member of the Soap Makers Plus Facebook group to see her post, which I think MOST soapmakers are. Julie wins a $25 gift certificate from Bramble Berry – yippee!!
Now, on to the winners in the all-natural category, who in contrast with the synthetic category have all placed in the Challenge Club at least once previously! The grand prize winner is none other than Bann Matson of Homely Animal in Utah, who took 3rd place last month in the experienced category of the piping challenge! Bann's soap is made to look like weathered, reclaimed wood. It is an unscented 100% olive oil soap, colored with activated charcoal and raw cocoa:
Congratulations to Bann for winning a $100 gift certificate from Modern Soapmaking!! You can click on the photo of her soap to see her Instagram post.
Second place goes to another member of the Challenge Club who has been making her mark lately: Helene Glemet of Chez Helene in Canada! This is her fourth time placing in the top 3. This time her prize-winning soap is called Firewood, aptly named for its real log-like appearance, down to the moss growing on the bark:
The soap has been scented with pine needle essential oil, and the colors were all achieved with varying shades of cocoa powder. Spinach powder and paprika were used to create the moss and lichen effect. Be sure to click on her photo to read all about her process on her Facebook page. Helene wins a $75 gift certificate from Modern Soapmaking – congrats!
Our third place winner is also a seasoned Challenge Club member who has created many beautiful soaps, including her first place winning rimmed soap in March. Congratulations goes to Anastasia Krasilnikova in the Czech Republic for her Thuja Wood soap with its rich, wood grain texture, colored with 99% Lindt chocolate and scented with thuja and sweet orange essential oils! (Thuja is a genus of coniferous trees in the cypress family, in case you were wondering like I was.)
She wins a $50 gift certificate from Modern Soapmaking – fantastic!! Click on the photo to read more about Anastasia's soap in her blog post.
Finally, Kenna of Modern Soapmaking has chosen Belinda Williams of Love Your Suds in Canada as her Sponsor's Choice prize winner for her Beekeeper soap, Belinda's second time as a Challenge Club prize winner! Kenna says, "I loved how the wood grain design was the foundation for combining textures on either side of the soap, and bringing together complementary facets of nature into harmony. So creative!" Her inspiration came from Tree Stump Beekeeping, as you can see from the design:
Belinda wins a $25 gift certificate from Modern Soapmaking – congratulations!! To learn more about her process, click on the photo to read her blog post.
To see ALL of the entries from the Wood Grain challenge, please visit THIS PAGE.
We will be doing another fun technique for the November Challenge, with guest teacher Tatsiana Serko of Creative Soap by Steso. It is the technique she created called "Cosmic Wave" and this is the soap she made for the video tutorial that you won't want to miss:
This will be one big challenge, with Mad Oils as our sponsor. Registration will open Monday, October 24, with the opportunity to register for December's challenge also at a discounted rate. Click the photo above for more info about these challenges, and sign up to be notified when registration opens below: