Piped Soap Challenge Winners Announcement!
Did you know that any piping technique you've seen with buttercream can be created with cold process soap? Members of the Soap Challenge Club took on some pretty amazing projects this month as they piped their hearts out!! The challenge was divided between newbies and experienced soapmakers. Those with less than 2 years experience and/or fewer than 50 batches fit the newbie category, and everyone else competed in the experienced category. We are incredibly grateful to our sponsors, Bath Alchemy Lab and Nurture Soap for their generous prizes for this challenge!!
Let's start with the winners for the experienced category. Congratulations goes to Yvonne Foust of The Snoblove Bar in Tennessee for her grand prize winning entry, Pink Cashmere Bar:
Everything about this soap says "decadent"!! Yvonne is definitely an up-and-coming soap artist you'll want to follow. She has been participating in the Soap Challenge Club for a few years now, and her artistry continues to shine. This is her first time placing, let alone winning the grand prize, and I'm sure she would say it's been well worth it! Yvonne has won 10 new fragrances PLUS the Royalty Soaps piping set from Nurture Soap!! Be sure to click on the photo to see Yvonne's video of how she made this gorgeous creation.
Second place in the experienced category goes to Bann Matson of Homely Animal in Utah. She created this amazing Spring Bouquet of flowers: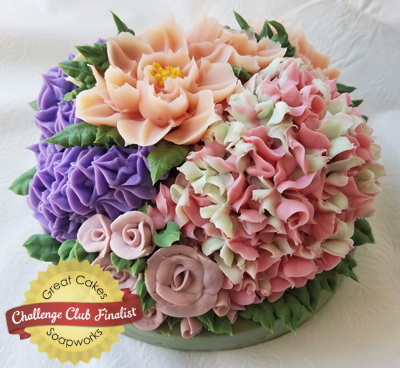 The two-toned hydrangea really shines in this eclectic collection of beautiful flowers! This is Bann's first time placing in the Challenge Club. She wins 6 new fragrances PLUS the Royalty Soaps piping set from Nurture Soap! Clicking on the photo will take you to Bann's Instagram post about her soap.
Although competition in third place was rather tight, Carolyn Newton of Siennalily Soaps in Spain pulled it off! Carolyn created a gorgeous soap cake covered with white and turquoise roses:
All of the different flower and leaf shapes really show off Carolyn's skills! She is no stranger to the Challenge Club, as this is the 4th time she has placed. Yet she has come a long way from her Sponsor's Choice prize a year ago this month, and even graduated from a first place finish in the newbie category this past January to her third place finish among the experienced soapmakers. Carolyn wins a 4-lb slab mold, plus a $10 gift certificate from Nurture Soap! Click on the photo to read Carolyn's blog post about how she created her soap cake.
The Sponsor's Choice prize goes to Stephanie Vanderwiele of Persephone Soaps in Florida for her Floral Bouquet soap cake slices! Carrie Thornsbury of Nurture Soap says, "I chose this because it had many details and different piping techniques that were really well executed. The piping is also smooth and well done. I made this choice after looking at the Facebook albums, blog posts etc. and looking at the details of each entry. I really like Floral Bouquet!"
Congratulations, Stephanie, on winning the new 25 cube soap mold from Nurture Soap! Be sure to click on the photo to see more great images of this soap in Stephanie's Facebook album.
And now for the winners in the newbie category!! Erica Pence of Bath Alchemy Lab was our sponsor for the newbie category and after seeing the entries she said, "I must say, everyone did a magnificent job on the piping challenge. In fact, they would have given the experienced soapmakers a run for the money." I completely agree!
Congratulations goes to Helene Glemet of ChezHelene in Quebec for her Grand Prize win in the newbie category!! Helene created a collection of Soapy Succulents that look incredibly real:
Helene is another up-and-coming soap artist who has placed in three of the last four challenges! Her artistry was first noticed in the Sculpted Layers challenge where her Howling Wolf soap took first place. She wins a $100 gift certificate from Bath Alchemy Lab! Click on the photo to see Helene's Facebook post about her soap.
Placing second in the newbie category is Belinda Williams of Love Your Suds in British Columbia! (Way to go, Canadians!) Belinda's soap is a lovely combination of succulents and roses:
You can see how seamlessly all of the different elements fit together in this fabulous slab of piped soap! Congrats, Belinda, on winning a $75 gift certificate from Bath Alchemy Lab! Be sure to click on the photo to read about how the soap was made on Belinda's blog.
In third place in the newbie category is Jen Heriot in Wisconsin with this amazing Fall Florals and Foliage soap:
This was Jen's first time entering a soap in the challenge, and I'm so glad she did! All of her piped elements look like she's been doing this for years and years when in fact, she just learned to pipe soap for this challenge! Pretty incredible, right? Jen wins a $50 gift certificate from Bath Alchemy Lab!
Erica Pence of Bath Alchemy Lab has chosen Carol Moyes of Milk & Silk in Scotland as the winner of her Sponsor's Choice prize! Erica says,"It is with great difficulty that I am choosing Garden of Enchantment for the Sponsor's Choice. While I struggled to choose, I decided on this soap because it featured a variety of flowers and leaves using different tips. I am aware of the challenges that one faces to juggle colors, tips, and time limits of soapmaking and felt that this soap displayed excellent skill."
Carol has been a member of the Challenge Club for six months now, but has only felt her soap worthy of entry twice. She says she has found her soaping happy place with piping, and her soap is evidence of that! Congrats, Carol, on winning a $25 gift certificate from Bath Alchemy Lab!
In addition, after seeing all the lovely entries, Erica says, "Since everyone put in a lot of time, effort, and creativity, I have decided to give all newbie participants that did NOT win a prize a 10% off coupon code for any one class or item on our site. I rarely offer coupons, so this may be an offer that some want to jump on." Which is why I always say – go ahead and enter even if you aren't entirely confident in your work!!
If you are ready to see the rest of the entries in both the newbie and experienced categories, you can find them all HERE. So many fantastic soaps!!
The next three months of challenges are going to be great fun! Registration will open on Monday for one week, and you'll be able to register for all three at a discount, or just October's challenge only.
For October, we will be making wood grain soap! There will be several methods to choose from, but here is the soap I made for the video tutorial:
The challenge will be divided between soaps made with all natural ingredients and those made with synthetic colors and/or fragrance. Modern Soapmaking is sponsoring the natural category, and Brambleberry is sponsoring the synthetic category with some awesome prizes!
In November, Tatsiana Serko will be our guest teacher once again as we learn the technique she calls "Cosmic Wave".
This will be one big challenge, with Mad Oils as our sponsor!
December's challenge is all about the tiger stripe. I will offer several different modification ideas, or you can go with the original method.
This challenge will be divided between newbie and experienced, with Custom Soap Stamps as our sponsor for the newbie category and Nature's Garden sponsoring the experienced category.
If you'd like to receive a notification when registration opens, do that here: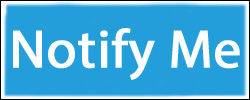 I look forward to seeing you inside the Club!