Rustic Soap & Packaging Challenge Winners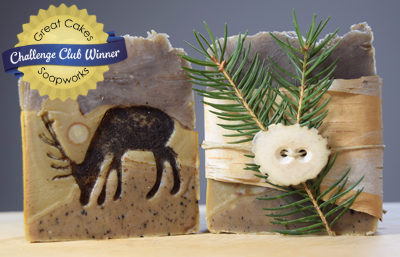 For the month of April, we did a theme challenge that was completely different than any other challenge we've ever done. For the first time ever, hot process and rebatching were allowed (and even encouraged!) to create rustic looking soaps, and the challenge also included packaging. Rustic was defined as "having a simplicity and charm that is considered typical of the countryside." Good textures, earthy colors, and a few rough edges can make a great rustic soap! Members were also asked to create packaging in keeping with the rustic theme that would enhance the overall look of the soap, but not cover it completely.
The challenge was divided into two new categories this month: voted and juried. Members who wished to learn a new technique and have some fun, and/or may be new to soapmaking were encouraged to enter the voted category. All of our members were eligible to vote for the winners in this category, except for the Sponsor's Choice winner which was chosen by our fabulous sponsor, Rustic Escentuals.
Members who wished to be pushed to their maximum potential, possibly with aspirations to improve or begin online selling were encouraged to participate in the juried category. A panel of five jury members decided the winners for this category, including Tatiana Serko of Creative Soap by Steso, Jelena Vasiljeva of Soap Techniques, Kenna Cote of Modern Soapmaking, Lori Kimble of Symphony Scents (our wonderful new sponsor for this category) and myself. Each jury member chose their top 10 picks and scored each entry on a scale of 1-10 on each of the following criteria: technique, difficulty, effort, skill/talent, uniqueness, packaging, presentation, and overall aesthetics. Eight categories with a maximum score of 10 from each of the five jury members would give a perfect 400 points. The scores from each jury member were added together to see who the top three winners would be, and the results are:
Grand prize goes to Helene Glemet of ChezHélène in Quebec, Canada! She received 347 out of 400 total points from the jury members for her amazing Taiga (Russian for "boreal forest") soap. Helene used several unique ingredients from the boreal forest, including balsam poplar and black spruce resins, chaga mushrooms from birch trees, and bear tallow. She created two layers of cold process soap, then added a layer of hot processed soap on top. Helene made the deer silouhette stamp herself and used chaga mushroom powder to create the contrasting color. The packaging is also inspired by the forest with birch bark, pine needles and a button made from a deer antler completing the look: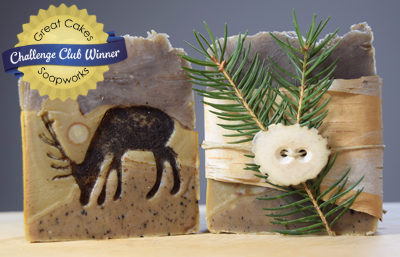 Helene wins a $100 gift certificate from Symphony Scents – congratulations!! You can learn more about the wonderful properties of the ingredients she used and how she made her soap by clicking on the photo of her soap to see her video.
Second place goes to Claudia Carpenter of Soap City in California, with 315 out of 400 total points for her beautiful Sandalwood Stone soap. After admitting that she was having trouble coming up with a soap that looked "rustic enough," Claudia used soap dough to hand-form her granite looking soap, colored with clays and tea powders. Her packaging consists of a simple ribbon made of cotton ticking and a kraft paper label she designed herself:
Claudia's prize is a $75 gift certificate from Symphony Scents – well done! Click the photo of her soap to read more about her "rustic" soap adventure on her blog.
In third place we have Michelle Rogerson of Handmade Heartland in Iowa, earning 295 out of 400 points with her stunning Arcadian Lavender soap. Michelle created her soap with the hot process method using the microwave as demonstrated in the video tutorial. She layered the soap with pencil lines, adding lots of tiny purple soap shreds to the middle layer. The final touches of purple paper, burlap ribbon and botanicals really make this soap stand out: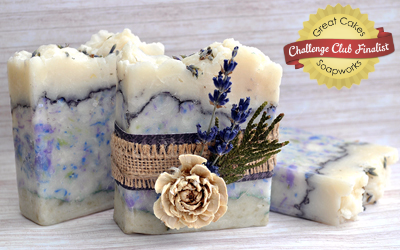 Michelle wins a $50 gift certificate from Symphony Scents! Be sure to click on the photo to read all about Michelle's process on her Facebook page.
(If you are looking for the Sponsor's Choice winner for this category, you won't find one since our sponsor helped choose all of our top three winners.)
Now it's time to announce the winners from the voted category! Taking grand prize we have Linda Irawan of Moia Soap in Indonesia with her fabulous Solitary Jade soap. Linda made her soap using an accelerating jasmine fragrance and cold process, oven process (CPOP) to give it more texture and defined lines. She used gold mica and cocoa powder to create the waterline for the stone, and her rustic packaging includes wood fibre, hemp string and an ancient chinese coin:
Linda wins a $100 gift certificate plus six 1-oz fragrances and six mica samples from Rustic Escentuals! Click on the photo to read more about her soap on her Instagram post.
Second place goes to Renee Spaulding of Lakehurst Farms in Vermont. Her prize winning soap is called Black Tie, a goat milk soap made with the hot process method. Renee created a simple black, grey and cream color scheme using activated charcoal and kaolin clay. Her simple packaging comes from a gift bag rope and a label she created herself:
Renee's prize is a $75 gift certificate plus six 1-oz fragrances and six mica samples from Rustic Escentuals! If you click on the photo, you can read more about her process on her Facebook page.
In third place (just two votes behind second!) we have Teri Endsley of Tree Marie Soapworks in Indiana who won the secret swirl challenge last month in the all-natural category! Teri made several batches for the challenge, but it was her very first hot process soap that she felt was "rustic enough" to enter. It is made with pine tar and calendula, embellished with an old-fashioned French soap stamp, and decorated with burlap, arborvitae foliage, and a small pine cone:
Teri wins a $50 gift certificate plus six 1-oz fragrances and six mica samples from Rustic Escentuals! Be sure to click on the photo to see all the different batches she made in her Facebook album.
Finally, the Sponsor's Choice prize goes to …. Melissa Fisher in Maryland! Melissa's Out of this World soap caught the eye of our sponsor for several reasons. Amy Coker from Rustic Escentuals explains, "I like the creativity and originality not only with the soap but also how she coordinated the packaging to match the soap. Mindful creativity combined with a very nice looking bar of soap."
It's always exciting when a new member gets a prize! Melissa wins six 1-oz fragrances and six mica samples from Rustic Escentuals – way to go!! You can read more about how she made her soap (and her reluctance to participate in the challenge!) on her blog post by clicking on the photo of her soap.
You can see all of the entries from the juried category HERE, and the voted category HERE.
Registration will open this Monday, May 1st for the May Challenge. We will be doing Soap Dough Techniques with Tatiana Serko as our guest teacher. She will be sharing the recipe she developed over four years with us! Here is the soap she made for the video tutorial:
I purchased the amazing soap dough tools from Sorcery Soap so I could play along as well. Tatiana sent me a sample of her soap dough, and I can tell you it is amazing!!
Here's the deal though. Tatiana recommends that you make the soap dough two weeks before you plan to make anything with it. Those who are participating in this challenge are HIGHLY ENCOURAGED to make the soap dough ASAP. I have extended the deadlines to make sure you have enough time to create some wonderful masterpieces with your soap dough.
The May challenge will also be divided into juried and voted categories. The sponsor for the juried category is Nature's Garden, and Deborah Ward will be joining our panel of jury members. The sponsor for the voted category is Lovin' Soap. Check out the current challenge page for more information!
There will also be an option to sign up for June (ombre techniques) at a discounted rate during open registration which starts Monday, May 1st. If you haven't signed up for Challenge Club notifications, you can do so now: