Announcing the Winners of the Soap Dough Challenge!
What is soap dough, you ask? It's a specially formulated cold process soap recipe that starts out moldable, but then hardens like regular soap. It gives endless possibilities for those who enjoy sculpting projects as it can behave similarly to polymer clay. Our guest teacher for this technique was Tatiana Serko of Creative Soap by Steso. She shared her special recipe with us and showed us how easy it is to mold soap into an amazing dragon eye! Members were given the task of starting with a "bar" of cold process soap, and embellishing or embedding it with soap dough. The soap did not need to be practical to use, however, and members could choose to use small non-soap embellishments also. The results are absolutely astounding!! The challenge was divided into two categories again this month: juried and voted.
Members who wished to learn a new technique and have some fun, and/or may be new to soapmaking were encouraged to enter the voted category. All of our members were eligible to vote for the winners in this category, except for the Sponsor's Choice winner. Lovin Soap is our incredible sponsor in this category. They have a multitude of resources for soapmakers, from recipes and tutorials to business information.
Members who wished to be pushed to their maximum potential, possibly with aspirations to improve or begin online selling were encouraged to participate in the juried category. A panel of four jury members decided the winners for this category, including our guest teacher Tatiana Serko, Jelena Vasiljeva of Soap Techniques, Kenna Cote of Modern Soapmaking, and myself. Each jury member chose their top 15 picks and scored each entry on a scale of 1-10 on each of the following criteria: technique, difficulty, effort, skill/talent, uniqueness, presentation, and overall aesthetics. Seven categories with a maximum score of 10 from each of the four jury members would give a perfect 280 points. The scores from each jury member were added together to see who the top three winners would be. Our wonderful sponsor for this category is Nature's Garden, and they chose a Sponsor's Choice winner as well. In addition to many other wonderful supplies for soapmakers, Nature's Garden is one of the premiere suppliers of fragrances, with more than 800 unique, concentrated scents!
Let's start with the winners from the juried category. The jury members agree this was the most difficult time we've ever had trying to decide the winners. The creativity and presentation of these soaps is top notch!
The grand prize goes to Linda Irawan of Moia Soap in Indonesia with 243 points! Linda was the first place winner in the voted category last month, and now she has proven her skills in the juried category as well. Her peacock soap is completely breathtaking in its beauty. Can you believe this is her first time working with soap dough? The tail feathers were created with the "caning" technique used by polymer clay artists:
Linda's prize is a $100 gift certificate from Nature's Garden! Congratulations on a job well done! Be sure to click on the photo of her soap to see more photos of her soap on Instagram, including some in process.
Our second place winner is Lyubov Evteeva in Russia with 242 points (very close to first!). This is her second time participating in the challenges, and her first time to place in the top 3. The scale of her soap dough creation is what is most stunning about her work. She had to use a magnifying glass to accomplish it! Her soap, "In heaven from happiness", is a replica of artwork by Mary Zherdeva:
Congratulations to Lyubov for winning a $75 gift certificate from Nature's Garden! Click on the photo of her soap to read her blog post about how she made the soap and to see the inspiration behind it.
Third place goes to Nadezhda Uskova of Master Soap in Russia with 234 points. This is her first time participating in the Soap Challenge Club, but not her first time creating with soap dough. However, the subject of her masterpiece was something completely different from anything she has attempted before. An elf baby!! Her work was also inspired by another artist, sculptor Diana Guelinckx De Becker. Again, the details and scale of her creation is most impressive:
Nadezhda wins a $50 gift certificate from Nature's Garden for her fantastic work! She has written a blog post about her process which you can read by clicking on the photo of her soap.
Finally, Deborah Ward of Nature's Garden has chosen Erin Reynolds of Raven and Rain Soap Co. in Oregon to receive the Sponsor's Choice prize for her Bathtime Fun with Rubber Ducky soap! This is Erin's first time participating in a challenge. Deborah says, "Looks just like a real bath tub, and the little ducky adds an extra touch of cuteness!"
Erin's prize is a $25 gift certificate from Nature's Garden – woo hoo! Be sure to click on her photo to read more about her soap on her Facebook page.
The rest of the juried entries can be found HERE, with all of the top 10 entries posted in order.
For the voted category, there are some equally amazing entries also! Grand prize goes to Julie Franson of Cold Pocket Farm in Idaho! Julie has been a member of the Challenge Club for quite some time but this is her first time winning a prize for her work – and her first time playing with soap dough. Her subject of choice is a beautiful horned owl head with glass eyes: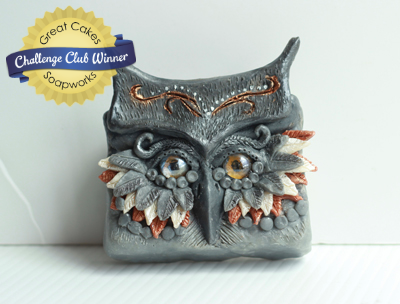 Congratulations to Julie for winning a $100 gift certificate from Lovin Soap! If you click on the photo of her soap, you can see more photos of her process on her blog post.
In second place we have Irina Bukhanova in New York, another first time participant with an elegant peacock soap. Her soap proudly displays a colorful bird with multi-layered tail feathers and detailed flowers on the breast:
Irina wins a $75 gift certificate from Lovin Soap – woo hoo!
Our third place winner is Ronda Scorpio (Soap by Kick it Up a Notch) in Canada! Ronda is new to the Challenge Club, but certainly not new to soap sculpting! She has created her own play dough soap recipe and hosts a Facebook group dedicated to the craft. Her prize-winning entry features the endearing characters Winnie the Pooh and Piglet. She calls it "Hunny Log":
Ronda's prize is a $50 gift certificate from Lovin Soap. Be sure to click on the photo of her soap to see the YouTube video she put together.
The Sponsor's Choice winner for the voted category is Yvonne Pedersen of Såpe Conditoriet in Norway! Yvonne is a long-time member of the Challenge Club and this is her second time to win a Sponsor's Choice prize. (She's been in the top 3 twice as well.) Amanda Gail chose her Soap Cottage because as she says, "This soap is adorable! I love the color scheme with the varied pinks on the yellow base. The flowers, though simple, are quite stunning when all assembled on the soap. The detail and texture on the door, window and roof really complete the piece. And of course the little bird up top is adorable! Great job!"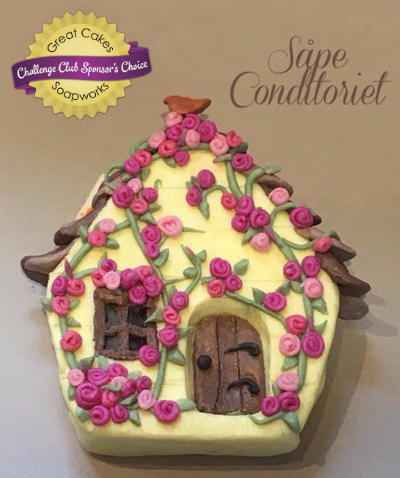 Yvonne wins a $25 gift certificate from Lovin Soap. Her write-up about her Soap Cottage is great – click on the photo to read her blog post!
You'll find the rest of the entries for the voted category HERE.
I hope you're excited for the June challenge! We are doing Ombre Techniques. Here is the soap I created for the video tutorial:
Registration will open Monday, June 5th for this challenge. We will have juried and voted categories once again. Click on the photo for more information about our sponsors and prizes!
If you would like to receive a notification as soon as registration opens, sign up here: