Secret Swirl Winners Revealed!
The Challenge Club for March was faced with the task of creating secret swirls – either a regular feather swirl, or a reverse feather swirl could be featured. Claudia Pazdernik in Austria is credited with creating the original secret feather swirl. This advanced technique creates some very beautiful designs! There are several different variations that can be created just by changing up the colors of the feather as well as the thickness of the pour, as you'll see in the winning entries. Each one took a different approach to this challenge. We also divided the challenge into two separate categories: soaps made with all-natural ingredients, and those made with synthetic colors and/or fragrance. Bramble Berry is our sponsor for the all-natural category, and Nurture Soap is our sponsor for the synthetic category. Both sponsors put together some fabulous prize packages for our winners that will help them continue to make secret swirl designs, or other fun techniques (international winners receive gift certificates for equivalent amounts). We are so appreciative of their generosity!!
Shall we start with the all-natural category then? The grand prize winner is none other than Teri Endsley of Tree Marie Soapworks in Indiana! Teri placed third in the Dancing Funnel challenge last August as well. Her beautiful soap features a black and white botanical leaf pattern that demonstrates her skill not only in creating such a smooth textured soap, but crisp, clean lines:
Congratulations, Teri! She has won a 5 lb wooden mold with silicone liner and multi-pour sectioning tool from Bramble Berry. Click on the photo to see how she made her soap – and rigged up a template for her hanger tool. Amazing!
In second place in the all-natural category, we have Joanna Humieniuk of Iriy Soapworks in Illinois! Joanna has also received Sponsor's Choice prizes – two of them – but this is her first time placing in the top three as well. Joanna has achieved some beautiful colors in her soap with the use of several different natural colorants. The features of her soap really come together into one cohesive design:
Excellent work, Joanna! Her prize is a 10″ silicone mold with multi-pour sectioning tool, Brazilian clay sampler, and natural colorants sampler from Bramble Berry. Be sure to click on the photo to read more about her ingredients – including tomato puree from the tomatoes in her own garden!
Third place in the all-natural category goes to Helene Glemet of ChezHelene in Quebec, Canada! Helene has been a member of the Club for nearly a year, placing four times in the top three and winning the Sponsor's Choice prize just last month in the experienced category. Her designs are always creative, and this month's entry is no different! She used the secret feather swirl to establish the leaves of her hyacinth, then applied piping techniques from the challenge last September to create the flower:
As an international winner, Helene wins a $50 gift certificate from Bramble Berry – woo hoo! If you click on the photo of her soap, you'll see the video she made while creating it.
Finally, Kelsey and the team at Bramble Berry has chosen Belinda Williams of Love Your Suds in BC, Canada to receive their Sponsor's Choice prize for her super cool Pine Forest soap! Belinda used the reverse feather swirl to create three separate pine trees in her soap. Kelsey says, "We were blown away by the detail in the Pine Forest bars! The fact that there are three secret swirls with alternating colors is amazing, and the brown soil on the bottom really ties everything together. Great job, Love Your Suds!"
Belinda wins a $25 gift certificate from Bramble Berry, which happens to be located just over the Canadian border from her! Click on the photo of her soap to read her blog post documenting her process which includes two practice batches that helped her come up with her final entry. Fascinating!
Now, for the synthetic category! The grand prize winner is Athena Edens of Alaska's Soap Cakes in Alaska, of course! Athena is brand new to the Challenge Club and has swept right up to first place. Her Alaskan Fireweed soap is a beautiful rendition of this flower from her home state, with delicate pink buds and a simple stem:
Huge congrats for this amazing accomplishment, Athena! Her prize is a 5 lb premium mold and liner with hanger swirl tool and mystery mica set from Nurture Soap. Feel free to click on the photo to see the post on her Facebook page.
Just six votes behind first place, our second place winner is Shayla Gauthier of Black Gold Soap Co. in Alberta, Canada with her mysterious Midnight Peacock feather swirl soap! Shayla was our other Sponsor's Choice winner last month in the newbie category. She used her favorite bright, bold color scheme to create this magnificent soap:
Yay for Shayla – she has won an $85 gift certificate from Nurture Soap (the equivalent amount of their prize package)! Click on her soap photo to read about her process on her blog.
And just one vote behind second place, we have a tie for third!! Congratulations goes to Liz Gehlsen in Ontario, Canada and Marty Johnson in Minnesota! This is the first time either of these ladies has placed in the challenges, and I couldn't be happier for them! Liz made the best of her soap, adding eyes to the feather swirl to create a very realistic looking owl!
Marty's soap is also whimsical in name, but an excellent example of the secret feather swirl. She used a bright color palette and came up with a beautiful feather swirl soap that she has named Big Bird:
As an international winner, Liz wins a $60 gift certificate from Nurture Soap, and Marty wins a 2.5 lb basic mold with hanger swirl tool, also from Nurture Soap! Be sure to click on their photos to see more about their soaps.
And for the Sponsor's Choice prize winner in the synthetic category, Carrie Thornsbury of Nurture Soap has chosen Sara Golding of Sunflower State Soap in Kansas! (Ironically, Sara also came in fourth place, just two votes behind Liz and Marty!) Carrie says, "The lines of the feather swirl are very crisp and clean and well done. I also really like the color choices. It takes a lot of talent to make a feather swirl that looks like a flower. It reminds me of tulips in spring."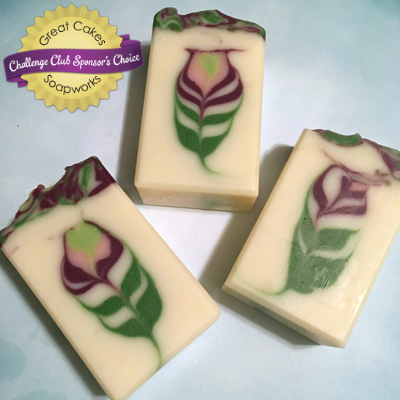 Congratulations to Sara for this honor! She has placed in the top three once, and this is her first Sponsor's Choice award. Sara's prize is a mystery mica set from Nurture Soap! Check out her Facebook post for more information about her soap by clicking on the photo.
Check out all the other creative entries in the all-natural category HERE, and the synthetic category HERE.
Now, it's time for the announcement for the next three months of challenges! I have exciting news!! The April, May and June challenges will be divided into two brand new categories. This will be a trial period to see how well this new format is received. The two categories are: JURIED and VOTED. Winners in the voted category will be chosen by the votes of the members of the Club that month as they have always been chosen. Winners in the juried category will be chosen by a panel of five jury members, one of whom will be the sponsor of that category, so that person will change each month. The other four jury members (at least for the next three months) will be Tatiana Serko of Creative Soap by Steso, Jelena Vasiljeva of Soap Techniques, Kenna Cote of Modern Soapmaking, and myself.
For the month of April, we will be doing rustic soaps and packaging! This is the first time we have done hot process or rebatching, as well as the first time we have included packaging as part of the challenge. As I have been making soaps with this technique and creating packaging ideas, it has been exceptionally fun to play! Here is one of the soaps I created for the video tutorial:
The sponsor for the voted category is Rustic Escentuals (perfect fit, right?), and the sponsor for the juried category is a brand-new sponsor: Symphony Scents. Lori Kimble will represent Symphony Scents as the sponsor jury member for April.
In May, we will use Soap Dough Techniques to create our soaps, inspired by B. Iyata of Sorcery Soap! I have not yet played with this technique, but one of our Challenge Club members has used it several times with amazing results:
The sponsor for the voted category is Lovin Soap, and the sponsor for the juried category is Nature's Garden. Deborah Ward will represent Nature's Garden as the jury member for May.
The technique for June is Ombre Soaps. Here is a practice batch I made (needs more work!):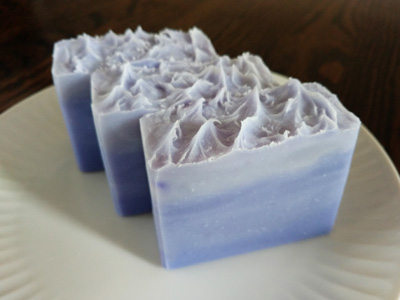 The sponsor for the voted category is Mad Micas, and the sponsor for the juried category is Elements Bath & Body. Tammy Tivis will act as jury member for the sponsor spot in June. More information available on the Current Challenge page.
Oh, and did I mention there's a new intro for the video tutorials starting in April? It's silly and fun, and I hope you like it!!
Registration for these challenges will open Monday, April 3rd. You may register for April only for just $6.95 or for all three months at the discounted rate of $18.00. If you haven't signed up for Challenge Club notifications yet, here's where you'll want to go: