Check Out the Winners of the Sculpted Layers Challenge!
The technique for the June Challenge Club is called Sculpted Layers. It was created by Claudia Carpenter of Om Nom Soap blog, one of our very own members! She used the technique to create her grand prize winning masterpiece for the Winter Wonderland challenge in February, and was gracious to teach it to us this month and share all her tips and tricks. The possibilities are truly endless with this technique, and the creativity that showed up in the entries is astounding! All of our top three winners took turns in first place throughout the course of the voting (I was the only one who could see this), and many others displayed beautiful design and skill as well.
Huge thanks to our sponsor, Alex Kelly of Custom Soap Stamps – who does so much more than just stamps! Please check out his etsy store to see all he has to offer, from tools to displays to molds – all of it made with high quality durable acrylic or silicone. In addition to the following prize winners, Alex also provided a 10% off coupon code to everyone who submitted an entry this month! Thanks so much, Alex!
Our grand prize winner, by just ONE vote is Helene Glemet of Chez Helene from Quebec, Canada! Helene just joined the Challenge Club last month, and has shown herself to be an excellent designer and soapmaker. Her soap, "Howling Wolf" is a simple, yet stunning design:
Helene wins a $150 gift certificate from Custom Soap Stamps – congratulations!! Click on the photo to see how she made her soap!
Second place goes to Debi Olsen in Fort Collins, Colorado! Debi is a master at complex, detailed soap design. She also utilized the allowance for small non-soap embellishments to decoupage the vines and cat tails on her soap to make it look surprisingly similar to her inspiration photo, and thus gave us her "Blue Moon" soap:
Her soap has won a $75 gift certificate from Custom Soap Stamps – yay, Debi! If you click on the photo, you can read her extensive blog post on how she made this soap.
In third place we have Vera Lede from Kazakhstan. Vera also has an eye for detail and bold, beautiful design in her soapmaking. She really pushed the envelope with a total of 12 sculpted layers in her "Morning in a Mountain Valley" soap!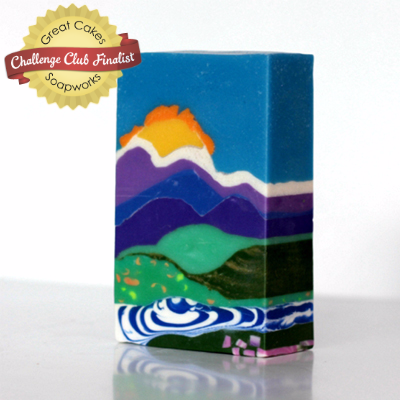 Congratulations to Vera for earning a $50 gift certificate from Custom Soap Stamps! Click on the photo to read her blog post and see photos of her process, as well as another soap she made with this technique.
Our Sponsor's Choice winner is Marie Zimmerly in Winterville, North Carolina! Marie is fairly new to the Club, and this her first time winning a prize. This is what Alex says about her "Almost Argyle" soap: "I really liked the crisp pattern separation and the fade from dark to light. The surface of the bars are nice and shiny, which adds that clean look (no pun intended). The dark edges leading in to the first pattern also helps define the contrast in colors. Lastly, it reminds me of the fancy argyle socks that I wore back in my corporate America days. Something like that allows the consumer to relate to the design of the bar."
Marie's prize is a custom soap stamp from Alex – congratulations! Clicking on the photo of her soap will take you to her blog post with lots of great details on how she made it!
What's that? You want to see the rest of the entries? Take a look at them HERE.
Registration will open for the next three months of challenges on Monday (June 27)! Here are the techniques we will be tackling next:
JULY – Pipe divider swirl, sponsored by Nature's Garden!
This technique was created by Tania of Soapish. She is excited to see what everyone creates for the challenge! Here's the soap I made for the video tutorial:
AUGUST – Dancing funnel, created and taught by Tatsiana Serko of Creative Soap by Steso. This will be a divided challenge between natural and synthetic entries. Majestic Mountain Sage will sponsor the natural category, and Rustic Escentuals will sponsor the synthetic category.
Here is the soap Tatsiana created for the tutorial:
SEPTEMBER – Piping soap, another divided challenge between newbies and experienced entries. Bath Alchemy Lab will sponsor the newbie category and Nurture Soap will sponsor the experienced category.
I have my equipment ready for this challenge, but nothing to show you just yet. This has been a hot technique lately, so I know it will be a fun one!
If you have signed up for Challenge Club notifications, you will receive one on Monday, June 27, as soon as registration opens. If you haven't signed up yet, be sure to do it now!