Teardrop Technique Challenge Winners!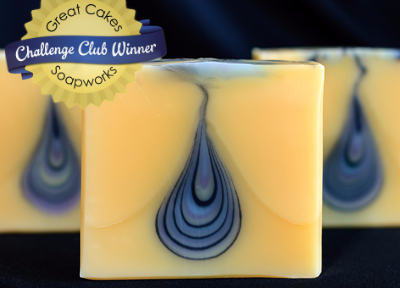 The Teardrop Technique is a soap design that creates a "teardrop" of layered soap down the middle of the bar. It's absolutely stunning when it's done right. In fact, we had 286 members this month who were excited to figure out how it's done. Together we learned that the Teardrop Technique is deceptively difficult! A few people were able to get theirs just beautifully on the first try (I wasn't one of them!), but quite a few struggled with this one. It's a technique that was first demonstrated by Sweetly Sweetly Sweetly on Facebook, and then picked up by Sergio Masala on YouTube which is where I first saw it. Our winners created some really amazing soaps and I can't wait to share them with you! But first, I must give a big shout-out to our sponsors this month.
Mad Micas is our main sponsor. They are an up-and-coming supplier known for their amazing micas and fragrances, but they carry a wide variety of other soapmaking supplies as well. They have contributed large gift certificates to each of our top three winners, as well as a Sponsor's Choice prize. Thank you, Mad Oils!! Amanda Aaron of The Lovin Soap Studio is also donating free e-books to each of our winners – and she has a wide variety to choose from! Thank you, Amanda!!
First and second place in this contest were about as close as I've ever seen – considering we had 95 entries and the top two were separated by just two votes! Either of these two ladies could have easily been our grand prize winner, but we can only have one. So congratulations goes to Holly Shelton of Kapia Mera Soap Co in Tennessee for her magnificent Lemon Mint Teardrop Soap!
Holly is a long-time Challenge Club member and has taken grand prize one other time, just a few months ago! She is known for her abilities to use a wide variety of natural colorants in cold process soap to create really beautiful designs like this one. Holly wins a $100 gift certificate from Mad Oils and an e-book from Lovin Soap Studio! (Click on the photo to see Holly's video of the making of her soap.)
So who was the fierce contender for second place? None other than the very talented Maria Antonova in Russia with her beautifully crafted soap that she refers to as "The Source of Life":
Maria was extremely persistent with this technique, making over five batches to get to this one. She has been a participant in the Challenge Club several times previously, but this is the first time she has placed, and it is well-deserved! Maria wins a $75 gift certificate from Mad Oils and an e-book from Lovin Soap Studio! Click on the photo of her soap to see how she made it, as well as four other batches.
Third place goes to another member who is no stranger to the Challenge Club. Congratulations to Sonya Mulholland in the UK for her simply elegant Raspberry Tangerine Teardrop Soap:
Sonya was a grand prize winner in the international category of our Spin Swirl challenge a little over a year ago, and now she's back for more! She's an accountant by day and a self-confessed soapaholic by night. Sonya wins a $50 gift certificate from Mad Oils, plus an e-book from Lovin Soap Studio. Congratulations, Sonya!! Click on the photo of her soap to see her blog post on how she made it, plus two other teardrop soaps for the challenge and the lessons learned.
The Sponsor's Choice prize goes to Claire Edmund of Saponista's Artisan Soap also in the UK! Claire was determined to achieve the beautiful, yet sometimes elusive teardrop in her soap. Her goal was to create a really long stem on her drop, which she created rather perfectly:
Congratulations to Claire for winning a $25 gift certificate from Mad Oils, plus an e-book from Lovin Soap Studio! If you click on the photo of her soap, you'll see her SIX other attempts.
If you'd like to see the rest of the entries for this challenge, please visit them HERE.
We will be taking a short break before the June Challenge registration opens. Our technique is called Sculpted Layers, and it was designed by Challenge Club member, Claudia Carpenter. She will be our guest teacher for this technique and will be demonstrating how she created these soaps for the video tutorial:
Claudia has put together some great information about the technique for me and without seeing the videos yet, my daughter and I created this soap which we will also share with you inside the Club:
Our sponsor for June is Custom Soap Stamps. It's way more than just stamps though – be sure to check out all the great equipment available to soapmakers!
If you have signed up for Challenge Club notifications, you will receive one on Monday, May 30 (Memorial Day in the U.S.) as soon as registration opens. If you haven't signed up yet, be sure to do it now!