Central Soaper's Workshop 2015
I can't believe this was the LAST ONE. Central Soaper's Workshop was founded by Kenna Cote of Modern Soapmaking three years ago, and last weekend was the third and final Workshop. (Insert sad face here!) We had an amazing line-up of speakers and presenters, with an option to attend the business track or the soapmaking track, OR there was a virtual option available as well for those who couldn't attend in person. Everyone who was able to be there in person will have access to the virtual sessions as well – BONUS!
My part in the event was to teach some soap designs. I don't have as many photos as I would like, but here are a couple of the soaps I made:
The highlight for most of us was getting to meet the Soap Queen, Anne-Marie Faiola of Brambleberry. She demonstrated how to make beer soap and brine soap for the Soapmaking Track and gave Six Steps to Social Media Success for the Business Track. I enjoyed seeing her soap demonstration: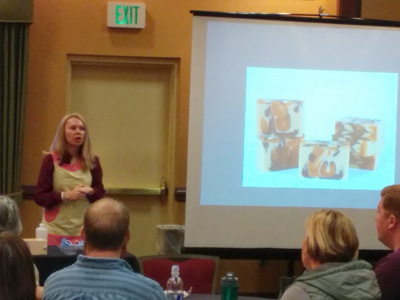 Brambleberry has been such a huge supporter of the Soap Challenge Club from the very beginning, so this is one of my favorite photos from the weekend (and my current Facebook profile pic):
I also got to meet Melinda Wolff-Foster of Melinda's Naturals! She has been a member of the Challenge Club for several months and winner of the DNA/Helix swirl challenge last month! (She brought one of the soaps from that winning batch to show us – it was really cool!) Melinda discussed in her class how to formulate cold-process soap recipes for intricate designs and then demonstrated how she makes a NINE-color swirled soap. I was fortunate enough to witness her cutting the soap:
Majestic Mountain Sage sponsored the soap lab again this year which allowed every participant to make at least two one-pound batches of soap and practice the designs they learned.
On Sunday, RuthAnn Matthews of Divine Scents showed us how to make hot-process soap in the crockpot. She made it look so easy, and gave tips for keeping the soap fluid enough for designs at the end of the cook.
There were other presenters in the soapmaking track that I missed because I slipped out to sit in on a couple sessions in the business track – I wished I could have cloned myself and done both, but I'll just have to check those out when the virtual area is ready to go! Preston Tillotson of Sudz by Studz rocked my world with his excellent information on how to use Instagram (my username is "greatcakesoap" – seriously, go find me!), and I also learned all about the 7 Deadly Sins of Wholesale from Lela Barker of Lucky Break Consulting.
I thoroughly enjoyed meeting two other Challenge Club members while I was there (hey Kelly and MaryLou!) and visiting with other soapmakers, both local and nearly local. Overall, it was an amazing event and I hope we get to do it again sometime…