Challenge Club Landscape Soap Winners!
For the month of March, the Challenge Club tackled landscape soaps – nature scenes from the land, sea or sky. They were all made in log molds so that when the soap was cut, you could see the design inside. Members also had to find an inspiration photo or drawing for their soap. This was one of the more challenging designs and we had some amazing entries!!
Huge thanks to TKB Trading for sponsoring this month! The grand prize winner will receive a $100 gift certificate!! TKB has also chosen a Sponsor's Choice winner to receive their EZ Eyeshadow Kit.
Once again, our grand prize winner really ran away with the prize! Congratulations to Claudia Carpenter in Los Altos, California for her beautiful ocean scene with the sun setting behind it! Claudia is a long-time member of the Club and has been consistently placing in the top 3 ever since she joined. However, this is her first time winning the grand prize, and I couldn't be happier for her! Please click on the photo to see how she made this fabulous soap:
Her inspiration photo:
Second and third place were quite close! (Even fourth place was only one vote behind third…)
Long-time Challenge Club member Claire Edmunds of Saponista's Artisan Soap from Plymouth, UK made second place with her fabulous rendition of a field of lavender in Devon which is near where she lives. I love this picture of her inspiration photo next to her soap:
Another veteran of the Club, Amy B of Middleton, WI, took third place with her stunning birch tree soap. Be sure to click on the photo to read all about her inspiration and how she made this soap:
Her inspiration photo:
Claire and Amy both receive free registration to next month's Challenge Club – yippee!!
Congratulations to Tatiana of Walnut Creek, California!! TKB Trading has chosen her mountain scene soap for their Sponsor's Choice prize! This was her very first Soap Challenge and she created this beautiful soap, that she calls "Evening Sunset":
If you are interested in seeing the rest of the entries for the Landscape Soap Challenge (who wouldn't??), you can click HERE.
Now for the announcement you've been waiting for! The next THREE months of challenges:
For April, the technique is Spinning Swirls! We are going to do something just a bit differently…I have lined up TWO sponsors and we will have TWO sets of winners. Soapmakers from the U.S. and soapmakers from the rest of the world will be competing separately. Everyone who joins will be able to vote in both contests. Mad Oils is excited to sponsor the U.S. portion and will be providing a $50 gift certificate to the grand prize winner. Their Sponsor's Choice prize includes 2.3 oz. of hibiscus petals, 2 oz. of Sexy Beast and Vanilla Milk fragrances, and samples of their new Hot Pants and Blue Bling micas. Gracefruit Ltd from the UK is a new sponsor to the Challenge Club, but certainly not new to the soapmaking world. They are sponsoring the non-U.S. portion and will provide a £50 gift certificate to the grand prize winner, and a £25 gift certificate for their Sponsor's Choice prize!
Here is the soap I made for the video tutorial:
I'm pretty excited about May too! We have another twist – a guest teacher!! Cee Gordon of Oil & Butter has agreed to teach all of us how to make dessert soaps using cold-process, melt & pour, and soap fondant! Have you seen her work? Here's just a sample of what she can do:
Brambleberry is also excited to sponsor this challenge! They are in for a $100 gift certificate to the grand prize winner! The Sponsor's Choice winner will receive four 4 oz. bottles of some of their newest fragrances. If all goes well in April, we may split the challenge again and have two sponsors. I will keep you posted!
In June, the technique is Ebru Art. This is a paper marbling technique that can be translated into soap. I've made several soaps with this technique and didn't realize that was what I was doing! Here's one of them: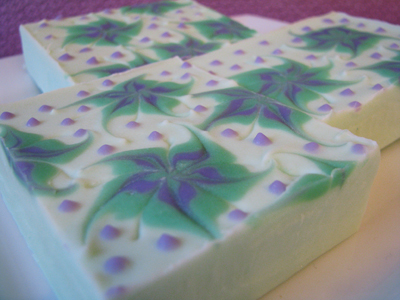 Majestic Mountain Sage is our sponsor, and there will be more details about that later!
For now, you should know that registration opens Monday (March 30th) for these challenges! You can choose to do April only for $5.95 or do all three months for just $15. If you haven't signed up for the Challenge Club newsletter, be sure to click the link below so you don't miss any notifications: