February Challenge Club Winners Announced!
For February, the Soap Challenge Club technique was the DNA/helix swirl. This swirl was originally created in a log mold by Sabine of Soap Star, with design credit for the slab mold version by Challenge Club member Amy B. in Wisconsin who used the technique for the combing swirl challenge last November. We are so grateful to Nature's Garden for sponsoring this month's challenge! The grand prize winner will receive a $50 gift certificate!! Nature's Garden has also chosen a Sponsor's Choice winner who will receive a $25 gift certificate!
We had so many amazing entries this month, but our first place winner was above and beyond all the other winners with a total of 46 votes. Congratulations goes to Melinda Wolff of Melinda's Naturals in Joshua, Texas, for her stunning Double Helix Swirl Design in a log mold:
As a side note, I'm so excited that I get to meet Melinda at the Central Soaper's Workshop in just a few weeks!! Registration for this event closes FRIDAY, and there are virtual registration spots open as well, so if you don't live in the Midwest, you can still attend in your jammies!
In second place, we have a new winner – this was just her second time participating in the Challenge Club! Congratulations to Algeana of Back2Eden Natural Bath & Body in Savannah, Georgia, with her super colorful DNA/Helix swirl in a slab mold:
Third place goes to long-time member of the Challenge Club, Eileen of Simple Pleasures Handmade Soap in Alberta, Canada with her rainbow DNA/Helix swirl in a log mold, using the slab mold technique!
Second and third place winners receive free registration to next month's Challenge Club!!
Finally, Nature's Garden has chosen Stacey of Yellow Cottage Soapery in Myrtle Beach, South Carolina to receive their Sponsor's Choice prize!! Stacey's soap is a beautiful twist on the DNA swirl to create this floral look:
Isn't it amazing how each of these soaps is so different from one another? This is the creativity that I love to see come out of the Club. I'm sure you'd like to see the rest of the entries as well, right? You can check them out HERE.
And if you would like to join us for the March Challenge Club, we will be doing landscape designs! Here is the soap I created for the video tutorial: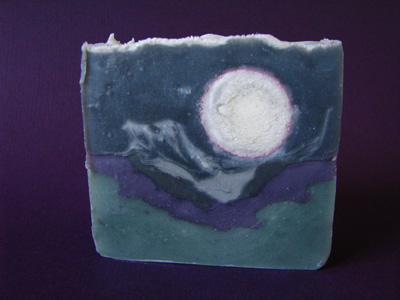 We have a new sponsor for March: TKB Trading! They are providing a $100 gift certificate to the grand prize winner, and their EZ Eyeshadow Kit for their Sponsor's Choice prize. Registration for this technique will open this Monday, March 2nd. You can sign up to receive a notification so you don't miss it: