Winners Announcement for July Challenge Club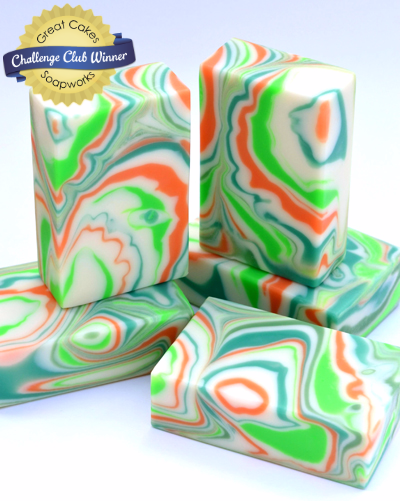 Our challenge for July was presented by our guest teacher, Joanne Watkins of Nature's Potion Handmade Soaps. As an artist who is adept in acrylic paint techniques, Joanne showed us one of the fluid acrylic pour methods using a straw. The results can be quite stunning as you will see from the winning entries, but we also discovered that this technique can be a bit dangerous if precautions are not taken. Even with warnings about safety, several of our members ended up with lye burns. For this reason, I will not be offering the tutorial for sale, and hereby notify you that any attempts to re-create this technique are done at your own risk.
The challenge was divided into the juried and voted categories once again this month. Bramble Berry sponsored the juried category and participated in choosing our top three winners as well as their Sponsor's Choice winner. Other members of the jury included Tatiana Serko of Creative Soap by Steso, Jelena Vasiljeva of Soap Techniques, Kenna Cote of Modern Soapmaking and myself. Those who entered the juried category were scored according to their adherence to the technique, difficulty, effort, skill/talent, uniqueness, presentation, and overall aesthetics. For this challenge, all entries had to include a photo of the wet soap in the mold as part of their social media or blog post. Everyone who entered this category will receive personal feedback from me about their soaps. As usual, it was a difficult challenge to score!! After all five jury members scored their top 15 choices, we had to discuss the final outcome, but everyone came to agreement on these top three winners:
Grand prize goes to Teri Endsley of Tree Marie Soapworks in Indiana for her Muskmelon Mania soap! This is Teri's second time in a row to win the grand prize in the juried category, and it is well deserved. The jury members were impressed with Teri's tenacity to get her soap to look how she wanted it, and her ability to control the force of her breath to create the design without getting the colors muddied as they had been in previous attempts. She was also able to create a beautiful even texture in her soap without added air bubbles (very difficult with this technique), and her photography and presentation of her soap are also outstanding: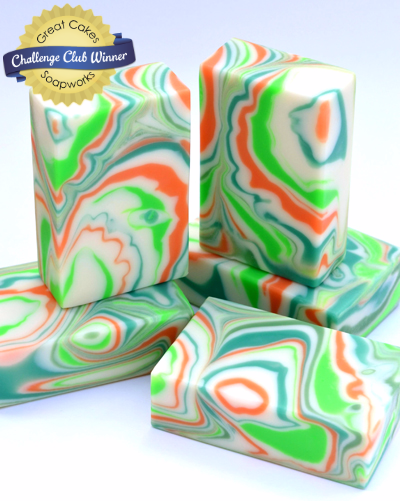 Congratulations to Teri for winning a $100 gift certificate from Bramble Berry!! Be sure click on the photo to see all of Teri's attempts on her Facebook page.
In second place we have Janelle Peck in Idaho, and I couldn't be happier for her! She has been participating in the challenges for over three years and this is her first time placing in the top 3! For this challenge, Janelle created an amazing Charcoal Nebula soap with impressive lines and colors, keeping her soap batter fluid throughout the pours, and presented her soap in a very unique and beautiful way:
Janelle's prize is a $75 gift certificate from Bramble Berry – yippee!! Click on the photo of her soap to see her process on her Pinterest Board, and then check out the rest of her challenge club soaps HERE. You can see her progress as a soapmaker, but she's always shown a lot of talent!
Third place goes to Linda Irawan of Moia Soap in Indonesia who has placed in three out of four challenges that she has entered! Her Blue River soap is a gorgeous display of moving waters, and stood out as a very unique design to the jury members. She used four different shades of blue micas along with some activated charcoal to create the monochromatic ripple effect:
Linda wins a $50 gift certificate from Bramble Berry! You can click on the photo to see more images of this soap, including the wet soap in the mold on her Instagram.
Finally, Kelsey B from Bramble Berry has chosen Nicole Lankenau of Nicole's Artisan Soaps in New York to receive their Sponsor's Choice prize! Nicole's Blowing Autumn Tree soap won the hearts of everyone in the Bramble Berry office! Kelsey says, "This soap immediately stood out to me. First I saw the bright colors, then I noticed the intricate tree design. It's amazing how Nicole's Artisan Soaps was able to create the trunk, leaves, and sky in the background using a straw. Excellent job, the whole Bramble Berry office loves it."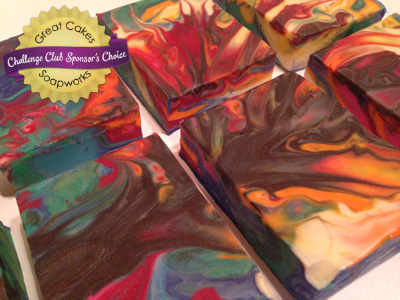 Nicole wins a $25 gift certificate from Bramble Berry! Click on the photo to see her process photos on her Facebook page, as well as videos HERE and HERE.
For the voted category, the winners were chosen by the votes of all our members this month, and sponsored by Symphony Scents. Congratulations goes to Shayla Gauthier of Black Gold Soap Co. in Alberta, Canada for winning Grand Prize with her Rainbow Fyre soap! Shayla has participated in several challenges, and this is her second time to place in the top three. For this month's challenge, she did an excellent job of re-creating a rainbow tie dye effect in her soap:
Shayla's prize is a $100 gift certificate from Symphony Scents! Be sure to click on the photo to read her blog post about her inspiration and how she created the soap.
Second place goes to Sarah Corey of Sweet N Charming Soaps in New Mexico – and she placed in the top 3 last month also! While she struggled to keep her soap batter fluid until the very end, Sarah's soap is still a gorgeous display of vivid blues and greens which she has aptly named Luminous Mirage:
Sarah wins a $75 gift certificate from Symphony Scents, and you can check out her blog post with process photos of her soap by clicking on the photo.
In third place we have Jamie Reddinger of Lathering Lotus in Pennsylvania! Jamie is a long-time member of the challenge club, and this is her first time placing in the top 3 – I'm so proud of her!! Ironically, she also won the three-month registration door prize that I contributed to the Pittsburgh Soapmakers Gathering last month! She did an excellent job of creating her fabulous Autumn Dreams soap:
Jamie's prize is a $50 gift certificate from Symphony Scents, and you can see the wet soap in the mold posted on her Instagram if you click on the photo above.
Finally, Lori Kimble of Symphony Scents has chosen Kelley Conway's Fruity Fusion soap as her Sponsor's Choice winner! Kelley's company is The Corner Handmade in Massachusetts. Lori says, "This soap has a great color combo and the tutorial showed a nice fluid soap to create the patterns. The cut of the bars shows all the layers and patterns throughout. Plus, she stepped out of her comfort zone to do this technique!" Congratulations, Kelley!!
Kelley wins a $25 gift certificate from Symphony Scents!! Click on the photo to read more about Kelley's soap on her Facebook page.
Don't miss the rest of the entries, and the announcement of the top 10 in the juried category located here:
Next month we get to have some fun with the Intaglio technique that Clyde Yoshida of Vibrant Soap has developed. Registration opens on Monday! You can sign up for August only, or throw in September as well for a discounted rate. Here are my practice soaps:
My soap for the video tutorial is made – just needs to be carved!! I will update the info on the Current Challenge page as soon as I get them finished up. Sponsor information and tools needed for this technique are already posted there.
Sign up to be notified as soon as registration opens, if you haven't already: