Intaglio Soap Challenge Winners Announcement
For the month of August, the Soap Challenge Club took on the Intaglio technique which was created by Clyde Yoshida of Vibrant Soap. He's made three different types of designs with this type of carving technique and was excited to see what the Challenge Club members might be able to create. Strictly speaking, intaglio is an etching or engraving that refers to an image that is created by what is carved away. It has been used in printmaking processes. For the challenge, members were simply encouraged to etch a design in their soap that was no more than 1 cm deep. The design could be created from what was left, or from what was carved away using at least one thin layer of a contrasting color to really make the design pop.
The challenge was divided between two categories: juried and voted. Majestic Mountain Sage was our sponsor for the juried category and participated in choosing our top three winners as well as their Sponsor's Choice winner. Other members of the jury included Tina Moenk of Natural Suds N More, Jelena Vasiljeva of Soap Techniques, Kenna Cote of Modern Soapmaking and myself. Those who entered the juried category were scored according to their adherence to the technique, difficulty, effort, skill/talent, uniqueness, presentation, theme and overall aesthetics. Since there were only 16 entries this time, all were scored by the jury members and everyone who entered this category will receive their scores as well as personal feedback from me about their soaps.
All of the jury members agreed that the top 2 spots in the this category could have been interchangeable as they were both SO incredibly amazing! In the end, there can only be one winner, and with just 4 more points than second place, here is the Grand Prize winner: Linda Irawan of Moia Soap in Indonesia!!! Linda has placed in every challenge since she began participating with us. She has incredible talent (and patience!). Her winning soap is Panthera Tigris, an amazing display of color and excellent use of thematic elements, and precision in design.
Congratulations, Linda!! Her prize is a $100 gift certificate from Majestic Mountain Sage. Check out more photos of her beautiful soap on her Instagram post by clicking on the one above!
In second place, and equally fantastic is Teri Endsley of Tree Marie Soapworks in Indiana! Teri has been the Grand Prize winner in the juried category the past few months and always creates outstanding designs. She took the opposite approach by creating her design by what was left rather than by what was carved away. The result is this stunning Plumeria Bouquet with three layers of color:
Teri wins a $75 gift certificate from Majestic Mountain Sage to keep her creative juices flowing. Click on the photo to see more about her process and how she incorporated parts of her practice soap into this one.
Third and fourth place were super tight also! With a margin of just four points, our third place winner is Belinda Williams of Love Your Suds in Canada! With Halloween just a few months away, Belinda's soaps are Something Spooky. The clean lines and simple black and white color scheme really showcases her designs beautifully:
Belinda's prize is a $50 gift certificate from Majestic Mountain Sage! Congratulations!! Read more about Belinda's soaps on her Instagram by clicking on the photo.
Finally, the Sponsor's Choice prize goes to Lyn Arnhart of Garnet Tree Designs in Florida. Lyn's Quilt Blossoms soap caught the eye of Tina Howard of Majestic Mountain Sage for several reasons. She says, "Quilting is similar to soap, it can be so very basic or it can be extremely creative. The colors chosen, as well as the whole image on her site, showed that she prepared her soap much like an intricate quilt – with a lot of preparation. These soaps, as a whole, felt like a quilt with the appliqued top and the peek-a-boo fabric underneath. A good choice of colors representing the concept of quilting as well as the art of marbling. This soap was well done, very well done."
Congratulations to Lyn for winning a $25 gift certificate from The Sage! Lyn has a great write-up and plenty of process photos on her Facebook post. Just click on the photo to check it out!
Now for the voted category! These winners were voted on by all of the members of the August Challenge Club, and sponsored by Nurture Soap. We have a stand-out winner who has been participating in the challenges for several years and this is her first time placing!! I'm so happy for Rama Mbaye in Paris, France becoming the Grand Prize winner this month! Her soap is inspired by a mosaic pattern which was beautifully executed in great detail:
Rama wins a $100 gift certificate from Nurture Soap – woo hoo!! Click on the photo to see her inspiration and process photos on her Instagram post.
Second place goes to Holly Shelton of Kapia Mera Soap Co in Tennessee! She is a faithful member of the Challenge Club for several years with quite a few prizewinning soaps during that time. Holly's soap this month is a fabulous landscape design that was translated into all four bars. She had to perfectly place each color underneath to carve out the shapes each one represented: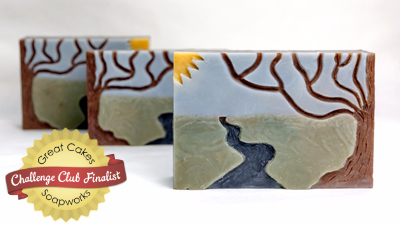 Excellent work, Holly! Her prize is a $75 gift certificate from Nurture Soap. Be sure to click on the photo to read Holly's blog post about her process and see the video.
In third place, and just 2 votes behind Holly, we have Carmen Iclodean of Earth's Raw Beauty in Nevada! Carmen has been participating in the challenges for several years as well and placed one other time. She used every ounce of patience she had to create this stunning "Paisley Pain" soap with excellent detail and clean lines: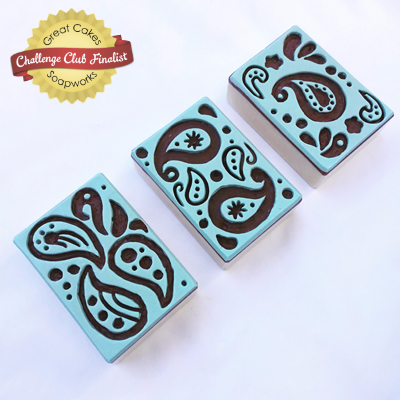 Your efforts paid off, Carmen! She wins a $50 gift certificate from Nurture Soap. This photo is linked to Carmen's Instagram post if you want to take a look.
The Sponsor's Choice winner was chosen by Carrie Thornsbury of Nurture Soap. Congratulations to Kelley Conway of The Corner Handmade in Massachusetts! This is her second month in a row to win Sponsor's Choice!! Carrie said she appreciated the clarity of Kelley's carving as well as the excellent color contrast in her Tribal Football soap:
Kelley's prize is a $25 gift certificate from Nurture. Be sure to click on the photo to see more photos and information about how and why she created her soap on her Facebook page.
Don't miss the rest of the entries, and the announcement of the top 10 in the juried category located here:
The technique for September is 3D Jelly Soaps!! Helene Glemet of ChezHelene is our guest teacher, and will be showing us how to make this soap:
We are doing one big challenge with Rustic Escentuals as our sponsor. The supply list has already been posted on the Current Challenge page. Be sure to check it out and join us as registration opens Monday, August 28. You can sign up to be notified below: