Announcing the Winners of the Ombre Challenge
For the month of June, the Soap Challenge Club worked on perfecting ombre techniques in cold process soap. Ombre is the gradual blending of one color hue to another, usually moving tints and shades from light to dark or dark to light – or even color to color. Members were given the option to choose any technique they wished to demonstrate an ombre color patter in the majority of their soap.
The challenge was divided between juried and voted categories. Members who wished to learn a new technique and have some fun, and/or may be new to soapmaking were encouraged to enter the voted category. All of our members were eligible to vote for the winners in this category, except for the Sponsor's Choice winner. Mad Micas sponsored the voted category with some awesome gift certificate prizes. If you haven't visited their website recently, it's worth checking out as they have added a ton of new colors and products! They also have a fun Facebook community.
Members who wished to be pushed to their maximum potential, possibly with aspirations to improve or begin online selling were encouraged to participate in the juried category. A panel of five jury members decided the winners for this category, including Tatiana Serko of Creative Soap by Steso, Jelena Vasiljeva of Soap Techniques, Kenna Cote of Modern Soapmaking, Leann Blackey representing our sponsor Elements Bath & Body and myself. Each jury member chose their top 15 picks and scored each entry on a scale of 1-10 on each of the following criteria: technique, difficulty, effort, skill/talent, uniqueness, presentation, and overall aesthetics. Seven categories with a maximum score of 10 from each of the five jury members would give a perfect 350 points. The scores from each jury member were added together to see who the top three winners would be. In addition to the winners chosen by the jury member, Elements Bath & Body chose a Sponsor's Choice winner as well. They are a fantastic wholesale soap supplier with absolutely everything you might need – awesome prices, no minimum order and they ship worldwide!
I'm going to switch things up a bit and post the winners of the voted category first this time. Congratulations goes to Claudia Carpenter of Soap City blog in California with her amazing Murder at Sunset soap!! Claudia is a long time member and supporter of the Challenge Club with a total of five first place finishes now and quite a few other top three finishes. She has not only created a beautiful masterpiece, but she also educated us on the names of groups of birds. Did you know that a group of crows is actually called a "murder of crows"? Thus the name of her soap:
Of course even more amazing is how Claudia used a 3D printer to create the mold for the birds. Be sure to click on the photo of her soap to read all about it in her blog post. Claudia wins a $100 gift certificate from Mad Micas (and bragging rights, of course) – woo hoo!!
Second place goes to Bonnie Howard of The Village Soapsmith in North Carolina for her beautiful Teal Ombre soap. Bonnie has also participated in the challenges many times over the years, placing first in the U.S. category of the Embracing Opposites challenge and winning the Sponsor's Choice award in the U.S. category of the Rimmed Soap challenge. Her ombre soap color change is so gradual, it is nearly impossible to pick out the layers!
Bonnie wins a $75 gift certificate from Mad Micas – congratulations!! Click on the photo to read about her process and see the other two ombre soaps she made.
In third place we have Sarah Corey of Sweet n Charming Soaps in New Mexico. Sarah has participated in the challenges several times in the last year, and this is her first time to place in the top 3! She is very experienced with the ombre technique (as you can see on her blog post), and has created a stellar ombre soap for the challenge:
Sarah's prize is a $50 gift certificate from Mad Micas!
Finally, the Sponsor's Choice prize has been awarded to Maja Zuvela-Aloise of Bubbledream in Austria for her Dusty Sunrise soap! This is Maja's second Challenge Club award since she started participating in February. Joanna Schmidt, owner of Mad Micas says, "The deep orange to yellow is stunning! This is an extremely gradual color change ombre. We can't even tell where one color ends and one begins! Well done!!!"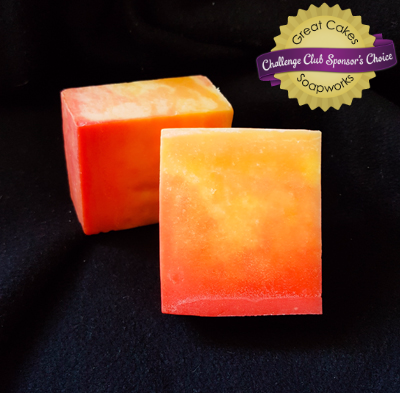 Maja wins a $25 gift certificate from Mad Micas!
Now, for the juried category! There was much discussion about first and second place among the jury members. Ultimately, grand prize goes to Teri Endsley of Tree Marie Soapworks in Indiana. She received 327 out of 350 points from the jury members for her Scallop Ombre soap! Teri has been participating in the challenges for nearly a year now and this is her fourth time placing. Her soaps are always meticulous with flawless batters and beautiful designs. Her entry this month is no different:
Congratulations to Teri for winning a $100 gift certificate from Elements Bath & Body! Click on the photo of her soap to read about it, as well as one other she attempted for the challenge on her Facebook page.
Equally amazing is the second place winner, Jayme Waldo of Jayme Jayne Inc. in Idaho who received 319 out of 350 points for her Glacier Ice soap. The smooth ombre transition combined with the unique shape and presentation of her soap is truly fantastic – especially for her very first ombre soap!
Jayme wins a $75 gift certificate from Elements Bath & Body. Be sure to click on the photo of her soap to read more about her soap on her blog.
Third place is yet another outstanding work! Irina Muzhyla of I.M. Soap in Belarus put in an incredible amount of effort into creating the perfect ombre soap. Her Morning in the Desert soap received 280 out of 350 points. The gradual color change from the sand to the sky to the bright corner of light is truly stunning:
Irina's prize is a $50 gift certificate from Elements Bath & Body. She has documented 11 batches of ombre soaps on her blog post, so be sure to check it out by clicking on the photo of her soap!
The Sponsor's Choice prize goes to Yvonne Foust of The Snoblove Bar in Tennessee for her Mermaids Lagoon soap! Leann Blackey, Creative Director for Elements Bath & Body says, "The color palette is absolutely gorgeous! The ombré was very well done, and that wave effect you were going for turned out well. Congratulations, Yvonne, on all your hard work and also for inspiring others with your beautiful soap! We are looking forward to seeing your new soap collection."
Yvonne has been participating in the challenges for several years with several award winning entries! She almost didn't enter her soap this month, but now she's quite happy that she did! Her prize is a $25 gift certificate from Elements Bath & Body. Congrats! You can read more about her soap by clicking on the photo that is linked to her Instagram post.
The rest of the entries for this month's challenge, including the top 10 from the juried category can be found HERE, and the rest of the entries from the voted category are posted HERE.
And now, the long awaited announcement for what is coming up next!! We will continue the juried and voted categories for the next two months. July's challenge will be the Acrylic Fluid Pour Technique with guest teacher Joanne Watkins of Nature's Potion Handmade Soaps. Joanne has participated in the Challenge Clubs a few times, but I was most impressed by what she shared in several Facebook groups about what she was creating with techniques that are inspired by acrylic paint artists. I'm so happy she agreed to show us how it's done! Here are a few photos of her work: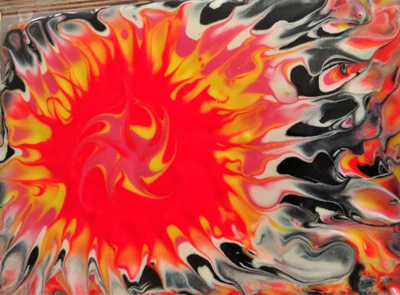 You might recognize her Ombre soap from this month's challenge:
This is the soap she made for the video tutorial:
The juried category will be sponsored by Bramble Berry and the voted category will be sponsored by Symphony Scents, both with the same amazing gift certificate prizes!
For August, we will do Vibrant Soap's Intaglia technique.
The juried category will be sponsored by Majestic Mountain Sage, and the voted category will be sponsored by Nurture Soap.
September's technique is 3D shower jelly soaps with guest teacher Helene Glemet of ChezHelene. You might remember Helene's entry in the CP + MP designs challenge made with this technique: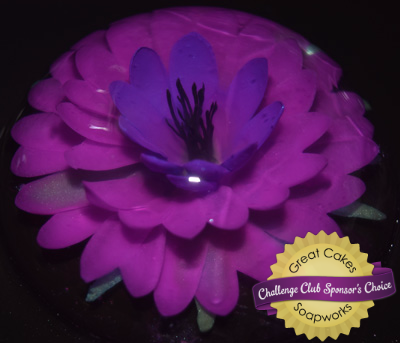 We will have one big challenge in September with Rustic Escentuals as our sponsor.
Registration opens Monday for these three months of challenges! See more information on the Current Challenge page. Hope you'll join us!
If you haven't signed up for notifications, here's the link: