Negative Space Embedding – Whaaat?
I coined a new term for this month's Soap Challenge Club! The technique is called Negative Space Embedding – the opposite of regular embedding. With this technique, participants were asked to pour a soap base, then cut holes (any shape or size) in it and fill those holes with fresh soap. I also gave the option of filling the holes with melt & pour soap. Let me tell you, this technique opened up a beautiful display of soap art which I'm sure you are all dying to see!
But before I announce the winners, I must thank our sponsors. Brambleberry has provided a $50 gift certificate, and Alex Kelly is providing a Custom Soap Stamp to our grand prize winner!!
Now we may proceed with the announcements! Congratulations goes to Zahida of Handmade in Florida for her beautiful negative "space" (literally!) embed soap. She created a beautiful soapy canvas of planets, sun, moon and stars: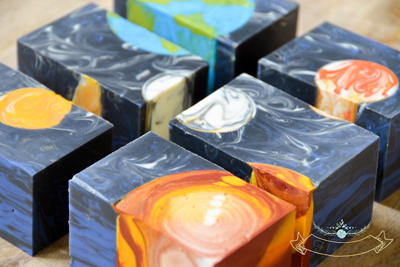 The honor of second and third place were such a tight race!! Second place goes to the talented Maya of Infusions blog from Tokyo, Japan. She created this beautiful interpretation of sea glass with her cold process soap base and transparent melt & pour "embeds":
In third place we have Claudia from Los Altos, California! Her 3D rainbow soap really stands out as a piece of soap art, don't you think?
Congratulations to Maya and Claudia! They win free registration to the September Challenge Club!
You can see the rest of the entries for this challenge HERE. It is worth taking a look!!
For September, we are doing in-the-pot swirls!! I was challenged to do NINE colors, so this is the soap I will be demonstrating in the video tutorial:
The official challenge will be to swirl in at least THREE colors. There's no limit to the number of colors you can do, but sometimes less is more with this technique! Our sponsors this month are Nature's Garden who will be providing a $50 gift certificate, as well as a NEW sponsor, Nicci Yeo, who is providing a $25 coupon code toward anything in her silicone soap mold shop, makermolds. So many different whimsical molds to choose from!
Registration for the September Challenge Club opens Monday, August 25th. You can sign up to be notified here: