Color Challenge Club Winners!
This month we did something a bit different for the Soap Challenge Club. Instead of doing a design, we worked on color matching – AND, we had two categories: natural and synthetic. Members who registered for the Club could create soaps with all-natural colorants or synthetic colorants, but they had to match either the mineral autumn palette, or the summer setting palette. They could enter either or both categories!
I'm so grateful to our sponsors this month! For the synthetic category, Nurture Soap Supplies sponsored for the first time, providing a very nice prize package of their vibrance micas along with some brand-new glitters, and their super white titanium dioxide. The winner will also receive a copy of Lori Nova Endre's e-book, Coloring with Confidence! Super generous of both sponsors!
The natural colorants winner also gets a double prize: Majestic Mountain Sage is providing a box of botanicals (or $50 gift certificate), plus Ruth Esteves will be awarding the winner with a copy of her e-book, Coloring Soap Naturally. Also very generous! Woo hoo!!
Second and third place winners in each category receive free registration to next month's Challenge Club!
Before I announce the winners, I want you to know what the voting guidelines were for this challenge. (Members could choose to use anywhere from 3-6 colors from the color palette for each of their soaps. They also had to photograph their soap with the color palette that they used, and describe the colorants used.)
1. Does the soap match ALL of the colors the creator intended to match? (if 3 colors were used, judge those 3 colors, etc.)
2. Are all the colors the creator intended to use distinguishable in the soap? (if 4 colors were used, can you identify all 4 colors in the soap, etc?)
3. Was the soap difficult to make?
4. Does the soap have a unique design?
So design was the last thing to consider. I think members did an excellent job choosing the winners based on these guidelines! The winning soaps match their color palettes pretty perfectly, AND they are beautiful to look at.
Let's start with the synthetic category. All three winners chose the summer setting palette for their soaps. Our grand prize winner is a super talented soapmaker. Ladies and gentlemen, join me in congratulating Jodi of Lakehurst Farms in Vermont for her beautiful blue-ringed Energy soap:
Second place goes to a brand-new Challenge Club member, Kelly of Soap Monkeys Soapworks in North Carolina!! She created a simple layered soap that accentuates each color of the palette:
Our third place winner is yet another brand-new Challenge Club member, Claudia in California! You can check out her soap blog here. Her stunning soap has a very unique pattern:
And now for the winners in the all-natural category! All three winners chose the mineral autumn palette for their soaps. The grand prize winner is someone who joined the Club last month for the first time. This month, her soap couldn't be more perfect for this challenge. Congratulations to Renee – of Lakehurst Farms in Vermont!! These Lakehurst Farms ladies took home BOTH prizes! Wow!
Next we have someone who has been part of the Challenge Club since the very beginning, and her hard work has finally paid off! I am so pleased to announce that Heather of Winberg Bathworks in New Jersey take second place in the natural colorants category!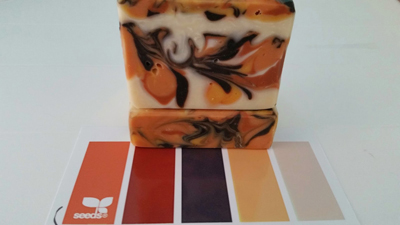 And in third place, we have someone who is not a stranger to placing in the Soap Challenge Club – the very talented Maya in Toyko, Japan!! Maya went to a lot of work to create embeds for her natural colored soap – that perfectly matches the color palette!
Yes, you can see all the entries for the color challenge! Check out the Synthetic Category HERE, and the All-Natural Category HERE.
For August, we are back to design. The technique is what I am calling "Negative Space Embedding". Here is my practice batch, that I'm not altogether thrilled with:
I will definitely be coming up with something better for the tutorial video! But now I can help you avoid the mistakes that I made…
Our sponsors will be Brambleberry with a $50 gift certificate, AND a new sponsor: Custom Soap Stamps by Alex Kelly. Alex is providing our winner with a custom soap stamp up to 3″ x 2″. Registration will open Monday, July 28th. You can sign up to be notified just as soon as it does: