Mini Dessert Soaps Challenge Club Winners
This month's challenge was completely different from any other challenge we have done before! Cee Gordon of Oil & Butter taught us how to make dessert soaps with various types of soapmaking methods, including cold process, hot process, whipped soap, melt and pour, and soap fondant. I challenged everyone create four mini desserts that looked as realistic as possible and to use at least one REAL food item in their soaps as well. The goal was to create soap ART, not necessarily usable soap. So impractical!! I feared the challenge would be overwhelming with so many different variables, but everyone really flourished when they were given the freedom to be artistic, and I heard a LOT of members say this was their favorite challenge yet! Huge thanks to Cee for guest teaching this month – she gave us some really great information that is really going to help us in so many areas of our soapmaking!
We kept things interesting by doing separate link-ups for U.S. and international soapmakers again this month. This meant double the prizes, which of course is a huge benefit! Brambleberry sponsored the U.S. portion of the challenge with a $100 gift certificate for the grand prize, plus 2nd and 3rd place AND the Sponsor's Choice winner will receive four 4 oz. bottles of some of their newest fragrances. (Second and third place also receive free registration to next month's Challenge Club.) Just across the border in British Columbia, Canada, Voyageur Soap & Candle Co. sponsored the International portion of the challenge with a $100 gift certificate for the grand prize as well, plus $25 gift certificates for 2nd & 3rd place and the Sponsor's Choice prize. Again, 2nd and 3rd place also receive free registration to next month's Challenge Club as well!
Shall we get on with the winners then? Let's start with the International Challenge. Congratulations goes to Odette Handley of Riverlea Soap in South Africa for her delectable Pistachio Cream Cake, White Chocolate Berry Swirl, Strawberry Mousse Cake, and Mini Strawberry Cupcake. Her real food item was chocolate chips – both brown and white. Odette is a long-time Challenge Club member, and this is the first time she's placed – what a great win for her!
Second and third place were up in the air until the very last minute! We had two people tied for 2nd and two people tied for 3rd just a few hours before the voting ended. When it was all finished, here were the results:
Second place in the International Challenge goes to Jelena Vasiljeva of Soap Techniques, in Montreal, Canada. Jelena has participated in several challenges and placed second twice before! Her mini desserts made with cocoa powder and half & half include rose cupcakes, coffee and caramel mousse, chocolate butterfly cake, and salted chocolate dipped mandarin slices. All of them look very realistic!
Congratulations to Caroline Lufkin of Merry Day Soaps in Japan for her third place finish! Caroline has been participating in the Challenge Club for quite some time, and this is her first time to place. She did an excellent job documenting her processes (which were quite extensive) to achieve her beautiful mini dessert soaps! First is a checkered chocolate coffee cake made with yogurt, coffee, and cocoa powder, second is a lollipop made with yogurt, third is an apple kiwi tart made with yogurt, tumeric, coffee, cocoa powder and poppy seeds, and fourth is a purple pearl flower cupcake made with yogurt, coffee, cocoa powder, sugar. And no, they aren't edible!!
Finally the Sponsor's Choice prize was chosen by Voyageur Soap & Candle Co. Congratulations goes to Yvonne Pederson in Norway! Her mini dessert soaps include a lavender macaron, almond crust vanilla pie with cherries, a rose cupcake, and a triple dessert cake with chocolate sauce made with ground coffee & oats, cocoa powder, and some olive oil infused with paprika.
For the U.S. challenge, the grand prize winner is Teressa Mahoney (Nourishing Handmade Body Care) from Parker, Colorado! Terresa took second place in last month's Spinning Swirl challenge. For this month, she created these gorgeous mini desserts with cocoa powder, coconut oil, sugar pearls, turmeric and red decorating sugar for her real food items. Check out her wedding cake, blueberry tart, white chocolate truffles, and créme brulee (your mouth is already watering, isn't it?):
In second place, we have Tatiana from Walnut Grove, California! She has been participating in the challenges for the past several months and won the Sponsor's Choice prize from TKB Trading for her landscape soap in April. This month, her four mini desserts include pancakes with cream and raspberry filling, a chocolatier cup, Minnie Mouse cupcake, and a two-tiered decorated chocolate cake. Each of these delicious-looking desserts was made with cocoa powder or goat's milk:
For third place, we have a new Challenge Club member taking the prize: Tovah Tumarkin of Nectar Bath Treats in Las Vegas, Nevada! Tovah's mini dessert creations include a creamsicle float, a soft serve ice cream cone, a rose cupcake, and a raspberry macaron, all made with handmade almond milk. Be prepared to lick your lips when you see these beauties:
And finally, the Sponsor's Choice winner was picked by Anne-Marie at Brambleberry. She chose Donna Rangel who created her desserts with Greek yogurt plus a few other yummy food items. These are Donna's 3-tiered lavender wedding cake, cookie sandwich pop with real mini chocolate chips, sundae fun-day 2-tiered cake with real candy sprinkles, and blueberry cheesecake: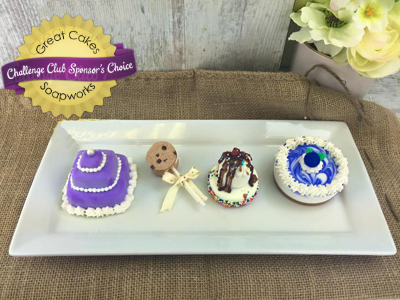 Of course you would like to see the rest of the entries too! The International entries are located HERE, and the U.S. entries are HERE.
Anyone is welcome to join us next month for the Ebru Soap Challenge. We are taking a week off because of Memorial Day weekend here in the U.S. so registration will open on Monday, June 1st. Here is my practice batch, which will probably end up in my video tutorial:
Since several international participants requested that we combine the challenges sometimes as well, this will be a combined challenge for all, and Majestic Mountain Sage is our sponsor with a $100 gift certificate for the grand prize winner. If you haven't signed up to receive notifications yet, and would like to participate, please click below: