Making Round Soap in Poly Tubing
If you've ever been frustrated at trying to get your round soap out of a PVC pipe, you might want to check this out. The idea has been floating around the soap blogs and forums for awhile now. Of course I heard about it right after I had just invested about $50 in a custom sized 2.5″ PVC pipe (the plumbing store would only sell me a full-sized stick), so I wasn't overly anxious to go out and purchase more supplies.
Ok, so I got a little bit frustrated with the pipe. Even freezing the soap in the pipe, then pulling it out and letting it sweat wasn't working every time. So two months ago I invested another $32.61 in some 2.5″ poly tubing. Hello. A 2.5″ flat tube is totally different from a 2.5″ round tube. Unable to send it back without incurring shipping fees plus a 25% re-stocking fee, I still have it. I let it sit there staring at me for about a month before I decided to go ahead and order the correct size – which was 4″ tubing. (Yes, 4″ flat tubing will give you about 2.5″ diameter soap.) And then life got busy.
Yesterday, I finally got around to making my Beer & Seaweed Shampoo Bars in the poly tubing. Hubby helped me with the set-up. I needed a way to prop the bag up and open while I poured the soap in.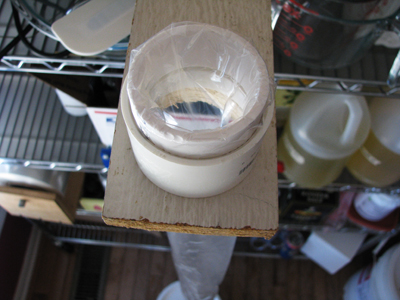 I had to stand on a chair to get to the top of the tube and pour the soap in! Also folded over a bath towel and placed it on the floor under the tube to catch any drips.
I left the soap hanging there overnight. It was actually ready to cut about 18 hours after I poured. The tubing slid right off – success!!
Here are the cut bars:
Here are some of the differences that I've noticed between this batch and previous batches:
1. They definitely did NOT gel.
2. They have more air bubbles from pouring such a long way down.
3. They are exactly 2.5″ in diameter which is slightly larger than the ones I made in the pipe – pre-cure weight is at least half an ounce more.
4. I'm also short a full bar – partly due to the knot at the bottom of the tube, and partly due to the slightly larger diameter, but I can deal with that!
5. This was SO much easier! I have a batch of the Lemongrass Herbal Mint already poured this morning. This is definitely going to be the way to go for these soaps!
Here is what they normally look like:



Soapmakers!! Check out the updated tutorial for using poly tubing HERE.