Four New Soaps Available Soon!
Between practicing for the Soap Challenge Club, and getting ready for the 4th of July, I now have four new soaps to show you that will be available soon!
First is the beautiful Pikake Peacock soap, so named for the scent and the peacock swirl technique used to make the soap: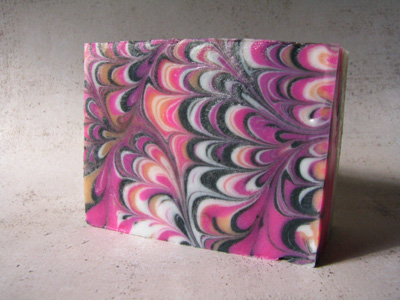 Pikake flowers are beautiful white flowers, also known as jasmine, which are used in Hawaiian leis. I recently discovered that the Hawaiian word "pikake" literally translates as "peacock"! I love this white floral scent, as it's not so strong as some others I've tried in the past. It's JUST RIGHT. This soap will be available June 22nd.
Next, is this year's version of the Americana soap to celebrate Independence Day:
It's scented with a lovely essential oil blend of lavender, tangerine, litsea cubeba, pink grapefruit, bergamot and ginger. Smells very fresh and clean! This soap will be available June 28th.
Third, is another peacock swirled soap called Pink Vanilla Cream:
Swirled with tones of pink, tan & copper and hints of yellow and white, this soap smells like something you might like to eat! Vanilla fans will love this combination of pink cream cheese frosting and vanilla cake, with a hint of butterscotch. So delish! Available July 10th.
Finally, we have Frutada Fiesta – another "practice" soap, but you didn't need to know that! It turned out rather beautiful:
This soap is bursting with all sorts of juicy, fruity scents including lemons, limes, peaches, raspberries, green apples, pears, and cherries!! Translation: "Fruity Party"!! Oh yes, it is!! Also available July 10th at Greatcakessoapworks.com.