Final Soap Challenge Winners Announcement!
It's so hard to believe this is the final winners announcement for the Soap Challenge Club!! There have been 55 challenges since the Club started in June 2013 with 160 unique winners of $10,000 in gift certificates plus physical prizes, many of them winning multiple times! Thousands of soapmakers have joined the Club over the years to learn new techniques and push themselves to grow their skills in incredible ways. I celebrate those who didn't give up after the first try, who offered up what they learned from their experiences, and continued to contribute over and over again not only by creating their own soaps, but encouraging their fellow Club members along the way. Thank you for coming together to create this amazing community of soapmakers!
I owe a huge part of the success of the Club to our sponsors, whose prizes provided needed incentives to go the extra mile. Huge thanks to all of you for supporting the vision of the Club and making it possible!! I've enjoyed learning new techniques along with everyone else even as I taught them or learned them from our guest teachers who deeply enriched our experience and brought the Club to places we could not have gone without them. They have been an enormous blessing!
The technique this month was Straight Line Designs. Toni Watt of White Milk Soaps was our guest teacher, showing us how to get perfectly straight lines in cold process soap. It is a somewhat tedious process that creates absolutely stunning results! Members could create straight or diagonal lines, as long as their soap was created in one pour session. Many took this challenge to a level of creativity that is downright incredulous!
Since this was the final challenge, we had multiple sponsors provide prizes not only to our top four voted winners, but also participation prizes to those who entered – all 82 people this month! Much gratitude goes to Bramble Berry and Majestic Mountain Sage for their participation prize packages!
In an attempt to simplify the process this month, I offered the option of having our jury members choose 10-15 entries for everyone to vote on. With well over 250 people registered for the challenge, I anticipated that the participation rate would be high – especially since this was the last challenge and there were participation prizes at stake! My goal for the challenge was for everyone to have a good experience, whether they were able to submit an entry or not. For those who did submit, I wanted them to feel like their entry was thoughtfully considered. Since this is a busy time of year, I wanted to be sure everyone felt like they had ample time to check out the entries so they could vote on the best ones. After receiving the results of the survey I sent to all the members, I decided that I would get the jury involved only if there were 50 or more entries. Well, 82 entries later, the jury members had their work cut out for them! After careful consideration, rock-star jury members Tatiana Serko of Creative Soap by Steso, Jelena Vasiljeva of SoapTechniques, Kenna Cote of Modern Soapmaking and I were able to narrow down the entries to twelve for the final vote. Members were given six total votes to be spread across three entries, ideally giving their first place choice 3 votes, second place 2 votes, and third place 1 vote. Here are the top four prize winning entries:
Congratulations to long-time member Debi Olsen of Me Do It Meself in Colorado for her stunning 34-layer soap with the same number of colors which she calls "Goodbye Yellow Brick Road." Her project took a total of 13 hours to complete! Debi has always gone above and beyond in her creations for the Club, and does an excellent job writing about her experiences on her blog. It's quite clear that she is passionate about extravagant soap design!
Debi wins a $100 gift certificate from Bramble Berry for her outstanding efforts!! Be sure to click on the photo to read all about Debi's experience and inspiration for making her soap.
In second place we have last month's winner in the juried category, Elena Childers of Mysteria Soap in Texas, with her bold and beautiful "Universe in the Jewelry Box" soap. Although new to the Club, it is obvious that Elena is highly talented as well! She was able to create a fantastic illusion with her back and forth ombre pours and final swirled portion in the center: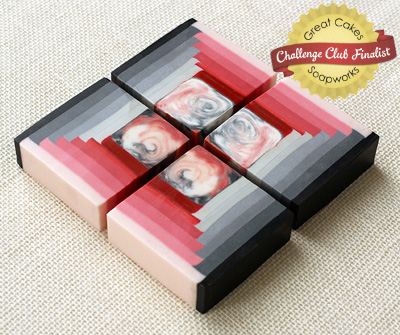 Congratulations to Elena for winning a $75 gift certificate from Symphony Scents! Her photo is also linked to her blog post with many more beautiful photos and a sketch of her plan.
Our third place winner is the ever-talented Helene Glemet of ChezHelene in Quebec, Canada! Another veteran to the Club, Helene's ability to think outside the box really makes her designs stand out. Her soap stunned us all with its perfect black and white chevron pattern, another long process taking 9 hours to complete! Can you believe she just eyeballed this design?
Helene's prize is a $50 gift certificate from Majestic Mountain Sage! Congratulations, Helene! Her photo is linked to her Facebook post which describes and shows her process so be sure to check it out.
Finally, in lieu of a Sponsor's Choice winner, the fourth place winner is Vera Lede of Lede Soap in Kazakhstan who created a 5-color diagonal masterpiece. Vera is an avid supporter of the Club as well, and has used each experience to really push herself to her maximum potential:
Vera wins a $25 gift certificate from For Craft's Sake, a brand-new sponsor to the Club but a veteran in the soap supply world, best known for their super soap cutter called The Tank (one of my personal favorites!). Check out Vera's blog post by clicking on the photo!
I know you'll want to see the other 78 entries as well – they are pretty incredible! Check them out HERE.
This is the part of the announcement where I usually tell you what's next. Honestly, I don't know! This is the end of the Challenge Club. Many have wondered if someone else could take it over and continue the legacy. If I thought it was actually possible to hand it off, I would attempt it. I have sat down over the past several weeks to write out just an outline of all the steps it takes to keep the challenges running. It is nearly five pages long and doesn't even go into detail about HOW to accomplish all these steps. I do know that there is still a need for mentorship in the soapmaking community, and if I can figure out a way to provide that in a less complicated way, I will let you know!
Meanwhile, the tutorials from all the past challenges will still be available to you. I will still offer smell-through shrink wrap. Perhaps I will find time to create a new tutorial now and then, but until I know what my schedule looks like, I can't make any definite plans.
So I wish you all much success in your soapmaking journeys and hope to see you around! Have a very Merry Christmas and Prosperous New Year!
Update: The Soap Challenge Club re-started in September 2018 and is currently going strong! Visit our website for more info.