Experimenting with Purple Soap
There are several fragrances that smell purple to me. And almost all of them are yellow tinted oils. I'm really not sure how many batches of grey soap I've made trying to get a yellow tinted fragrance oil to come out purple in cold-processed soap. I've always used ultramarines to color soap. You would think that ultramarine violet would be a logical choice to create purple soap. And if the fragrance oil is clear, it works pretty well! However, those yellow tinted oils are a different sort of beast. I've tried adding some titanium dioxide to lighten up the base color – which works pretty well for lighter purple colors – such as lilac soap.
The challenge I'm up against this time is to create a grape scented soap. Grape is not light purple. I sent out an S.O.S. on Facebook yesterday, and received a very helpful reply from another soapmaker. Randi says that she uses blue 1 for her yellow-tinted huckleberry fragranced soap. Ah ha! I have blue 1, but I knew that it doesn't stay blue in cold processed soap, so I've never tried to use it in soap. Until today!
Here are the pictures of my test batch of grape soap:
After adding the blue 1 to the soap, I realized that it wasn't quite purple. Fortunately, I had already mixed up a nice slurry of ultramarines that I thought I was going to use in this soap. I had 1 teaspoon of ultramarine violet, about 1/2 teaspoon of ultramarine blue, and about 1/8 teaspoon of black oxide in about a tablespoon of glycerin.
I added about a teaspoon of this mixture to the soap, and it turned a little bit more purple. Here is the final soap in the mold (I'll show you another picture tomorrow after I get it cut!):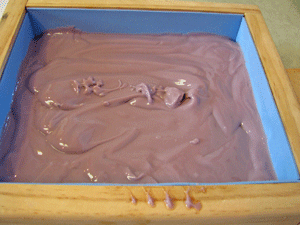 If anyone else has some tips on how you color your cold-processed soap purple, please comment! I'll be anxious to see how this soap looks tomorrow!