Another Purple Soap Experiment
I made some purple grape soap again yesterday – this time with the grape pop mica, and just a little bit of the ultramarine slurry from the first batch. It came out surprisingly similar to the first batch – even a little more blue, and maybe not as dark.
For the sake of comparison, here are the two batches, side-by-side. I think the week or two of curing time for the first batch may have made it a bit more grey: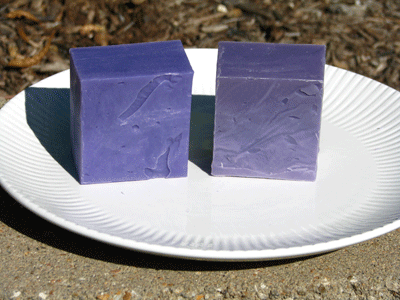 Anyway, I don't think I'm done yet. For the next batch, I'm going to have to take Kerry's advice and add more red. Possibly some brick red oxide would do the trick, and less ultramarine blue. Third time's a charm, right?
Read about the third batch of purple soap.