Announcing the Tall & Skinny Shimmy Challenge Winners!
The Tall & Skinny Shimmy was a deceptively challenging technique! Our guest teacher, Tatiana Serko, is a true soap artist and made it look so easy! She even showed us how to make our own tall & skinny soap mold out of foam board, which came in handy for many of us. The tricky part was making sure the soap batter was fully emulsified while not overblending. We had instances of crumbly soap from not stirring long enough, as well as soap that became too thick and wouldn't shimmy. So, in the end, we celebrated the fact that everyone gave it their best efforts and now we celebrate those who really mastered the technique!
We are incredibly grateful to Nature's Garden for sponsoring the challenge this month! They have been a terrific supporter of the Challenge Club since the very beginning!
And now, for the winners…
The grand prize winner is none other than Carmen Iclodean of Earth's Raw Beauty in Las Vegas, Nevada!! Carmen nearly didn't take soap out of the oven, let alone enter it, as she was sure it was a complete flop when she made it. She is a first time member of the Challenge Club and she titled her soap "Up in Flames" because the soap literally oozed oil in her oven and caught fire! You would never guess it though. Check it out:
Click on the photo to read Carmen's full story. She is the well-deserved recipient of a $100 gift certificate from Nature's Garden!
Second place goes to Patricia DePhillips of Soap Amore in Lapeer, Michigan! Patricia has been participating in the Club since August, and this is her first time placing – Congratulations, Patricia! Her soap is aptly named '55 Bel Aire based on the color palette she chose and her husband's suggestion: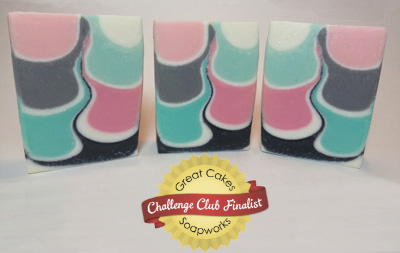 Click on the photo to see more of Patricia's attempts at this technique. She wins a $75 gift certificate from Nature's Garden!
In third place we have the ever talented Lisa Norris of Kangaroo Apple Soap Studio in Sydney, Australia! Lisa departed from her famous rainbow colors in favor of this stunning Dragonfruit inspired palette: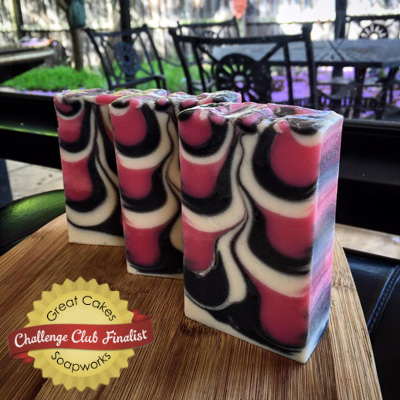 Click on the photo to see her process on Facebook. Lisa wins a $50 gift certificate from Nature's Garden!
Finally, Nature's Garden has chosen Maya Matsuoka of Infusions blog in Tokyo, Japan as their Sponsor's Choice prize winner!! Congratulations to Maya, a long-time member and supporter of the Challenge Club! Her Lemon & Ice soap turned out fantastic:
Click on the photo to read more about Maya's soap on her blog. She wins a $25 gift certificate from Nature's Garden!
And because I know you want to see all the other 93 entries, feel free to click over to the link-up HERE. The tutorial for this challenge will be available at Greatcakessoapworks.com starting tomorrow.
If you haven't heard already, the technique for December is using Impression Mats. You can use a pre-made fondant mat, or create your own! Here's my practice batch using a pre-made mat:
I will share lots of resources for you to purchase your own pre-made fondant mat, as well as a coupon code from Brambleberry (our sponsor for December!) for 25% off their pourable silicone, which is currently out of stock, but should be available by the time registration opens. We will be taking a short break for the Thanksgiving holiday in the U.S. so registration will open on Monday, November 30th. If you haven't signed up for notifications about the Challenge Club, please do so here: