The Great Shampoo Bar Exchange: The Beer & Honey Bar
This is it! My final review in the Great Shampoo Bar Exchange! The last shampoo bar came the farthest – all the way from Spain! Jennifer of Naturalmente Mediterraneo sent us three different bars, but asked us to focus on her favorite: the Beer & Honey Bar. She actually had to split her last bar three ways, so that's why it's smaller than the others – but what a treat!
I enjoyed the Beer & Honey bar so much, that this is all I have left: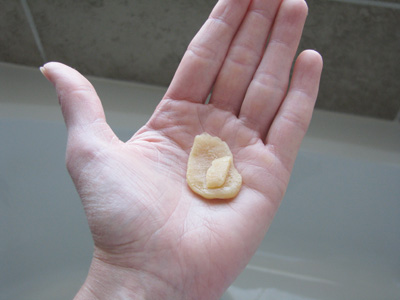 The magic in this bar is not in how well it lathers or how squeaky clean my hair felt, but rather in the fragrance. Odd, you might say. Oh, but you haven't smelled it, have you? The essential oils are listed as patchouli, cedarwood, and lemongrass, and I'd say it's pretty heavy on the patchouli. There's something about the blend that is just so intoxicating! It was strong enough to linger in my hair throughout the day, which I loved! In fact, when I was using the bar, Hubby's uncle, who happens to be a very talented artist, came for a visit and after giving me a hug said, "you smell good" in the most complimentary way possible.
Ok, so hair pictures!! I did continue to use conditioner on the ends, as well as the apple cider vinegar rinse. It was a delicate balance between using enough conditioner to give an easy comb-through, but not too much so my hair wasn't weighed down.
I believe Jennifer is still working out her formula, so after all this gushing, you won't be able to get your hands on a Beer & Honey Bar just yet, but please peruse her other soap offerings, and check out her blog!
As for me, I have so enjoyed trying out these shampoo bars! It has helped me in my formulations immensely! In fact, I have already made another test batch, combining some of the things that I liked from each of these bars, and just tested it out yesterday. With just a couple more tweaks, I think I may have something worthy to sell. You know, in the midst of getting ready for the holiday rush!