Quick Soap Swap Update: It would appear that using google documents may not have been the best choice for creating the sign-up. I have heard from 3 people who had signed up for the swap, but I never received their information. So – obviously I'm one short here if anyone else wants to speak up and join the swap. Please reply back to me by the end of the day Monday if you signed up but didn't get your swap partner information or if you didn't sign up and would like to join us, and I'll try to get everyone paired up.
On to this week's challenge: creating peaked tops! It's a fairly simple technique if you allow your soap to set up before attempting to create peaks (similar to piping soap from week 3!) Instead of teaching this challenge myself, I will leave it to the masters and share their videos with you.
First up is Lyn from Lynnz Artisan Soaps and Candles. She's pretty famous for her peaked tops in the soaping world, and graciously made this video to show how she does it:
I am also going to highlight a couple of our very own Soap Challenge participants whose textured tops are also well known. Celine from iamhandmade.com also has a unique style. Check out this video of her making a Lavender Rose Chocolat Pure Essential Soap. Starting at about the 12 minute mark you can see her texture the top of the soap.
Holly of Missouri River Soap also has a pretty neat technique. I am highlighting one of her more popular videos. She's making a Huckleberry Cream Kitchen Soap, and starting at the 6:45 minute mark she begins the texture process.
If you'd like to try whipping some soap to put on top, that would be another option. When I was making beer soaps with the samples of Brambleberry beer fragrances, I just set aside some white soap for the top and used my stick blender with the whisk attachment to whip some air into it so it would look like froth: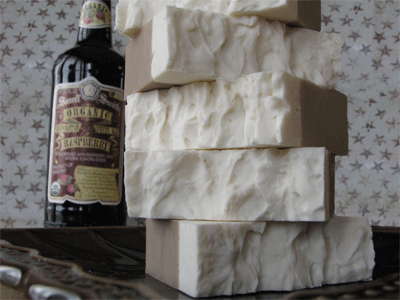 So now you should have some ideas to work with! There are lots of ways to go about this challenge, and I can't wait to see how each one of you applies it to your own unique soap! (Only two more weeks after this one – can you believe it?)