Soap Challenge Survey Results and New Schedule!
My apologies to those who aren't involved in the Soap Challenge – I promise to post about new soaps tomorrow!!
I had 54 people take the survey – thank you very much for your input!! The overwhelming majority are ready to keep going, and the newer soapers especially are ready to tackle anything and everything! LOL! Looking at my calendar, things are about to get busy with my local farmer's market starting up this Saturday, and then my girls get out of school May 24th!! So…let's give it six more weeks, and then summer will hit and everyone will be doing their own thing anyway – at least in the northern hemisphere!
Now, what shall we do for the next six weeks? The survey results are very interesting: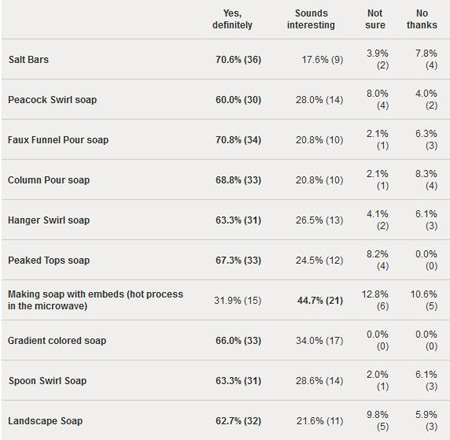 I also had several people request doing infusions or making soap with fruit or veggie puree or natural colorants which I thought would be an excellent challenge as well.
Based on your feedback, here are the final six weeks of challenges:
Week 6 (starting April 22): Faux Funnel pour soap
Week 7 (starting April 29): Gradient colored soap
Week 8 (starting May 6): Salt Bars (regular sea salt – Dead Sea salt will NOT work)
Week 9 (starting May 13): Peaked Tops
Week 10 (starting May 20): Landscape soap
Week 11 (starting May 27): Making soap with natural ingredients (This one will be pretty open-ended. Some of you have communicated that you have some ideas on what you'd like to do already, so just make sure you have the ingredients you would like to work with!)
It wasn't easy to choose, but I had to include the ones that most people wanted, and also make sure we had some easier techniques mixed in with the more advanced ones. As before, you are of course welcome to sit out the ones you aren't interested in. Or if something comes up and you aren't able to participate that week, that's no problem either! The goal is to learn and have fun making soap!!
Swap News: Looks like we will be doing a 1 to 1 swap for anyone who is interested – 47 people responded positively to a swap on the survey. I will post more about that next week and give anyone else who might want to join in a chance to sign up!