On the Curing Rack: Peppermint Soap!
It's difficult to think about Christmas soaps when the temperatures are still in the 60's and 70's, but I decided I just needed to pull the trigger and pull out the supplies to make peppermint soap! The design is new (again!) this year. As you can see, there's a lighter pink swirl in with the red, and each bar looks completely different!
What's really exciting is the curlycue swirl that I made – accidentally, of course – for the first time! Here's another view: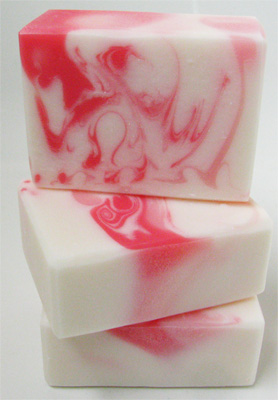 In case you are wondering, these are made with pure peppermint essential oil and they are quite strong! In fact, I do put a warning on the label not to use this soap on the more *ahem* sensitive areas of your body. Peppermint soaps will be available at Greatcakessoapworks.com on November 8th!