How to Make Goat's Milk Soap
Today I made some Oatmeal, Milk and Honey soap. My basic recipe is 45% soft oils, 40% hard oils, and 15% butters, with a 4% superfat because the goat's milk also adds fats. The amount of milk is about twice the amount of lye. This method is not for beginners, but you can use an online soap calculator such as SoapCalc to figure out a recipe with the ingredients that you have or like. I added some pulverized rolled oats (do not use quick oats!), some local honey, and some Oatmeal, Milk and Honey fragrance oil.
Making soap with goat's milk is a little bit different than using water. The lye heats up whatever liquid you add it to, so there are several things you need to do to prevent the goat's milk from being scorched by the lye.
The first thing I do is melt all the oils and cool them down to around 80-90 degrees fahrenheit.
Another thing I do is freeze all the goat's milk in ice cube trays.
When the lye is added to the frozen milk, it will melt it. You have to be sure to stir it really well to get the lye completely dissolved. The best way I've found is to scrape down the sides of the bowl with a silicone spatula and keep stirring until the temperature of the lye solution is around 80-90 degrees fahrenheit as well. If the lye solution is too cool, you can get pockets of undissolved lye in your soap. This is a great time to have your goggles, rubber gloves and apron on!
Once the lye is fully dissolved, it's time to add it to the oils. I use my stick blender to mix them. When the mixture starts to thicken, I add the oats, honey, and fragrance and mix some more.
I like to pour my soap when it is still pretty thin – about like pancake batter. Once it is in the mold, I cover the top with plastic wrap and tape it down.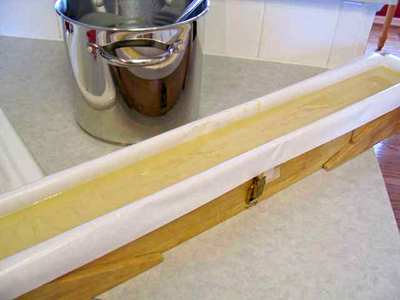 I used to prevent gel in my goat's milk soap by putting a fan on it. Some soapmakers will put the soap in the refrigerator or freezer at this point. My mold won't fit in either, so this worked for me.
I have since decided that I like my goat's milk soaps to gel, so I will insulate with a towel or two, then cut the soap into bars in a couple of days after it has a chance to set up and isn't too sticky. You can see more information and comments about gelling vs. non-gelling goat's milk soaps here.
If anyone has questions or comments, I'd love to hear them!
This post was updated on January 16, 2012.