Feathered Mantra Swirl Tutorial
After tackling the mantra swirl for last month's Soap Challenge Club, I have seen so many variations on this beautiful technique!! One of them was posted by Ramy Sanchez from Spain on her blog. Ramy was kind enough to share her method and has given me permission to post it here!
Feathered Mantra Swirl:
1. First you will need to create two lengthwise dividers for your log mold. Divide your soap batter into thirds and color each one separately. The soap should be thick enough that it won't run under the dividers, but still fluid enough to swirl easily. You may need help to hold the dividers while you pour the soap in the mold! Once the soap is all poured, slowly lift the dividers out.
2. Next you will need to swirl the soap in a tight S-curve across all of the layers of soap with a chopstick or bamboo skewer. Make sure your swirling tool goes all the way to the bottom of the mold!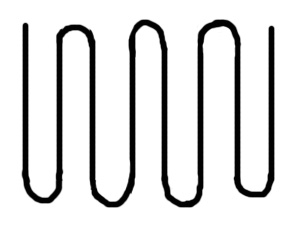 3. Then you will make one more swirl with your chopstick or skewer, like this (again all the way to the bottom of the mold!):
4. Slice your soaps horizontally so you can see the beautiful swirl inside!
Check out Margo's example – she used this technique for the Challenge Club, and her soaps turned out beautifully:
I can't wait to try this myself!