Fabulous Shampoo Bar Recipe
If you are a soapmaker looking for a fabulous shampoo bar recipe with lots of lather that will make your hair softer than it's ever been before, then this recipe is for you! It comes from Lisa G. of Opus Soaps in Petersburg, Texas.
When I first set out to make a great shampoo bar, I did a bit of research on the best ingredients to use and took a shot at it. It worked fine for my first try, and my hair did a slow transition away from the commercial shampoo I've been using all my life. It had decent lather, and made my hair feel softer and cleaner than it ever had before. In fact, here's a photo of it:
Then Lisa sent me her recipe, and I whipped up a quick hot-processed batch. Oh my. My first soap never saw this much lather! And my hair! After the first time using it, my hair was noticeably softer and easier to comb through!
Oh, but then Lisa sent me an actual bar that she had made using the cold process method, and it was EVEN BETTER. When I first picked it up, I noticed how silky smooth the surface of the soap felt. Then with a bit of water added, the lather began to grow into an lots of large frothy bubbles. After rubbing it around my hair, I noticed that the lather got super dense and creamy. Heavenly! See for yourself: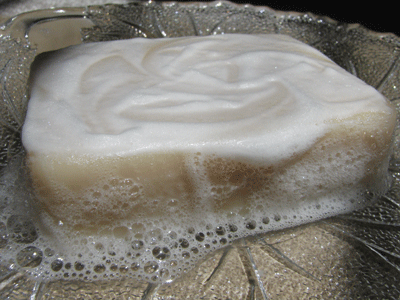 Are you ready to make your own batch now? Here is what you'll need:
Opus Shampoo Bar – 3 lb. batch, superfatted at 5%
Water – 517 g (Lisa uses half beer, half aloe juice)
Lye – 192 g
Coconut Oil – 382 g
Olive Oil Pomace – 408 g
Castor Oil – 63 g
Lard – 340 g
Shea Butter – 42 g
Cocoa Butter – 25 g
Rice Bran Oil – 123 g
I've been using this recipe on my hair for several days and it's amazing! I'm still using a bit of conditioner on the ends followed by a vinegar rinse (about 1 part apple cider vinegar, 3 parts water) on my scalp, which works down through the hair and makes it easier to de-tangle. After getting my hair shampooed at the salon yesterday, I did have to shampoo my hair twice with the bar soap to get the same lather, and my hair isn't feeling quite as soft today. I suppose it will have to re-adjust again.
Anyway, give it a shot and let me know how it works for you! And huge thanks to Lisa for sharing her recipe!!
If you haven't made soap with beer before, you might want to consult this post.