Check Out These Spoon Swirls!!
We had 116 soapmakers from all over the world come together for the December Challenge Club! Our technique was the simple spoon swirl which involves pouring various layers of soap, then using a spoon (or chopstick) to fold the soap from bottom to top, creating beautiful swirls! Our sponsor this month was Majestic Mountain Sage. Tina's favorite holiday is Christmas, so she created some generous prizes for our winners!! Grand prize is a $100 gift certificate! Normally second and third place just receive free registration to the next month's Challenge Club, but this time they will also receive the Amazing Dozen sampler kit from The Sage – 12 different one-ounce bottles of the winner's choice of fragrance, essential oil, extract, or flavor oil. The Sponsor's Choice winner will also receive an Amazing Dozen sampler kit! Thanks so much, Majestic Mountain Sage!!
And now, for our winners:
Congratulations to Milla from Bend, Oregon!! She is a hobby soapmaker, and has entered nearly all of the Great Cakes Soapworks Challenge Clubs, yet this is the first time she has made a top 3 spot. Milla has really created a masterpiece with her pink, black and white spoon swirl soap: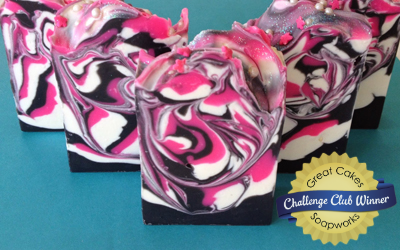 In second place we have Jelena in Quebec, Canada with her beautiful wispy swirled Cherry Blossom soap. Isn't it gorgeous??
Congrats to Claudia in Los Altos, California for her third place finish with this amazing outer space spoon swirl soap! She combined the spoon swirl with in-the-pot swirls and tiny little soap embeds:
And finally, I get to announce our Sponsor's Choice prize goes to Katy in Neoga, Illinois!! Katy is yet another hobby soapmaker and soon-to-be mother of six girls! She has been a member of the Challenge Club nearly every month, and I am excited to show you her Champagne Sugar spoon swirl soap made with real champagne:
I know you'll want to see the rest of the entries, so I've made the link available HERE.
For the January Challenge Club, I will attempt to de-mystify the Butterfly Swirl, originally created by Zahida of Handmade in Florida. Here are the results of my first practice batch:
Our sponsor for the January Challenge Club is Nurture Soap Supplies! The grand prize winner will receive 65 different mica samples (enough to color 2 pounds of soap each!), and the sponsor's choice winner will each receive a basic 2.5 pound soap mold with silicone liner.
Once again I will open up the January Challenge Club so that you can register just for that month, or you can register for the next three months. Check out what we have lined up for February and March as well:
The February Challenge will feature the DNA/helix swirl, and the sponsor is Nature's Garden. They will provide a $50 gift certificate to the grand prize winner, and a $25 gift certificate to the sponsor's choice winner!
For March, we will revisit landscape soaps, something we haven't done in quite a long time and always turn out so amazing! We have a new sponsor for March: TKB Trading! Their prize packages will be announced soon.
Registration opens after the holidays – on Monday, January 5th. Sign up now get a notification via email as soon as registration is available, and the tutorial for the spoon swirl as well: