What is the Soap Challenge Club?
I've been throwing around this idea for a monthly Soap Challenge Club for several weeks now, and by now you may be wondering what on earth this Soap Challenge Club is all about! Well, I finally have some details that I can share with you!
The vision for the Soap Challenge Club is to create a Members Only space where soapmakers from all over the world can come together to be challenged to learn a new technique. Best of all, members will vote to determine the winner of the challenge each month – and that winner will receive a significant prize from a soap supply vendor!!
Soapmakers will be able to choose each month whether or not to participate. These will be the requirements to participate:
1. Register and pay a small fee to gain access to the private area where the technique will be laid out via instructional video and written instructions.
2. Create a soap using the technique of the month.
3. Create a blog post (preferred!), video on YouTube, or post a photo on a Facebook business page featuring your challenge soap entry. Uploading a photo from your computer will be allowed, but will only create a small thumbnail photo of your soap which will be difficult for others to really see. If you want to win a prize, you may want to consider starting a blog! (Soaps that have been created previous to the challenge will NOT be eligible to be entered in the link-up.)
4. Be sure you are able to get your challenge soap posted during the time the link-up is open.
First Challenge
The first challenge will open one week from today on May 27th – Memorial Day in the US. Registration will remain open for a full week, and participants will have yet another full week to complete their challenge soap. A link-up just like the ones we've done before will open on June 10th in the private area where the voting will take place to see who will win the prize that month. Only Soap Challenge Club members will be able to vote. The link-up will be open between June 10th and 12th, and voting will begin on the 12th!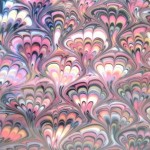 Yes, we will be doing the Peacock Swirl first, so be sure to gather your supplies! In addition to normal soapmaking ingredients and supplies, make sure you have a slab mold (can be a real soap mold, or a cardboard box, plastic kitty litter box, dresser drawer…you get the idea!), at least 4 bottles with a yorker-type cap (think ketchup & mustard dispensers), a piece of cardboard as wide as your soap mold, and about 3-5″ tall, 100pk of roller pix (found at beauty supply stores or online for about $3), and a wooden skewer or chopstick.
I have some excellent sponsors lined up for the "significant prizes". You won't be disappointed! Winners will be posted publicly right here on the Great Cakes Soapworks blog. Plus, second and third place winners will receive free registration for the next month's Challenge Club!
Let me know if you have any questions so far!!