September Challenge Winners & My Big Announcement
For the month of September, guest teacher Helene Glemet of ChezHelene showed us how to create 3D Shower Jelly soaps similar to the designs of edible 3D gelatin cakes. We injected cold process soap into melt and pour jelly bases to create beautiful designs. The challenge was sponsored by Rustic Escentuals, a fabulous supplier of jelly base, as well as tons of fragrances, micas, and so much more! There were only 24 entries this month as it is a busy time of year and many were unable to participate. Instead of each member getting 3 votes, they were only given ONE.
Grand prize goes to Maja Zuvela-Aloise of Bubbledream in Austria!! This is her second time with a first place finish in the Soap Challenge Club; the first time was with the CP + MP Designs which goes to show she is very talented at combining these two mediums as she did again for this challenge. Her Sea Urchin Soap is a spectacular display of color and beauty within the jelly base which shows off the design perfectly:
Maja wins a $100 gift certificate from Rustic Escentuals – congratulations!! Be sure to click on the photo of her soap to see more photos at different angles (you will be surprised at the shape of her mold!) on her Facebook page.
In second place by just one vote we have Shauna Veilleux-Shultz in Pennsylvania!! Shauna is a long-time member of the Club and I have watched her get better and better each month! Her beautiful Cardinal Rules soap is completely unique from the rest of the entries. Shauna's soaps are always super creative, and I was impressed with how she made this one with modified drinking straws as her tools:
Shauna's prize is a $75 gift certficate and a whole lot of pride in a job well done! Click on the photo to see her practice batch and more information about her soap on her Pinterest board.
Our third place winner is Teri Endsley of Tree Marie Soapworks in Indiana with her absolutely breathtaking chrysanthemum soap!! Teri did something completely unique as well by coloring the jelly soap pink and injecting white cold process soap for the flower. Bet you couldn't figure that out just by looking at the photo:
Teri wins a $50 gift certificate from Rustic Escentuals – great job!! Her photo is linked to her Facebook post with more photos of her process that you won't want to miss!
Amy Coker of Rustic Escentuals chose Marty Johnson in Minnesota as their Sponsor's Choice prize winner. Marty's (Once in a) Blue Moonflower soap captured Amy's heart. She says, "Its beauty is in its complex simplicity. The design is not overdone and has resulted in a realistic flower."
Marty's prize is a $25 gift certificate from our sponsor! Her photo is linked to her Pinterest board (which seems to be having a bit of technical difficulty at the moment, but has some great photos!).
Finally, the jury members have chosen an entry to receive free registration for the October, November and December challenges. We chose Jane Whipp's simply stunning Purity soap for this honor. Tatiana Serko says, "I like that the master took a risk and took the mold in the form of a heart, despite this it turned out to be a very harmonious flower. And I still liked the simplicity and elegance." Jane's company is Butterfly Soap Studio in Queensland, Australia, and here is her soap:
You can check out the rest of the entries HERE.
I have a BIG ANNOUNCEMENT to make! As I have started working with a large wholesale client, these will be the final three challenges:
October – Rainbows & Unicorns theme soaps, Experienced & Newbie Categories; Nature's Garden will sponsor the experienced category, and Lovin Soap will sponsor the newbie category.
November – Dirty Fluid Pour Technique with guest teacher Joanne Watkins of Nature's Potion Handmade Soaps, Juried & Voted Categories; Elements Bath & Body will sponsor the juried category, and Custom Soap Stamps will sponsor the voted category.
December – Straight Line Designs with guest teacher Toni Watt of White Milk Soap & Candles, one big challenge with prizes galore from many of our sponsors!! Bramble Berry is providing a $100 gift certificate for grand prize, Symphony Scents is providing a $75 gift certificate for second place, Majestic Mountain Sage is providing a $50 gift certificate for third place, as well as some special goodies for all participants who enter a soap in the challenge, and For Craft's Sake is providing a $25 gift certificate for fourth place. Bramble Berry will also give every participant who enters a soap in the challenge a coupon for $10 off shipping.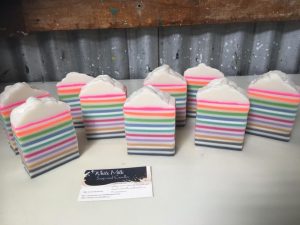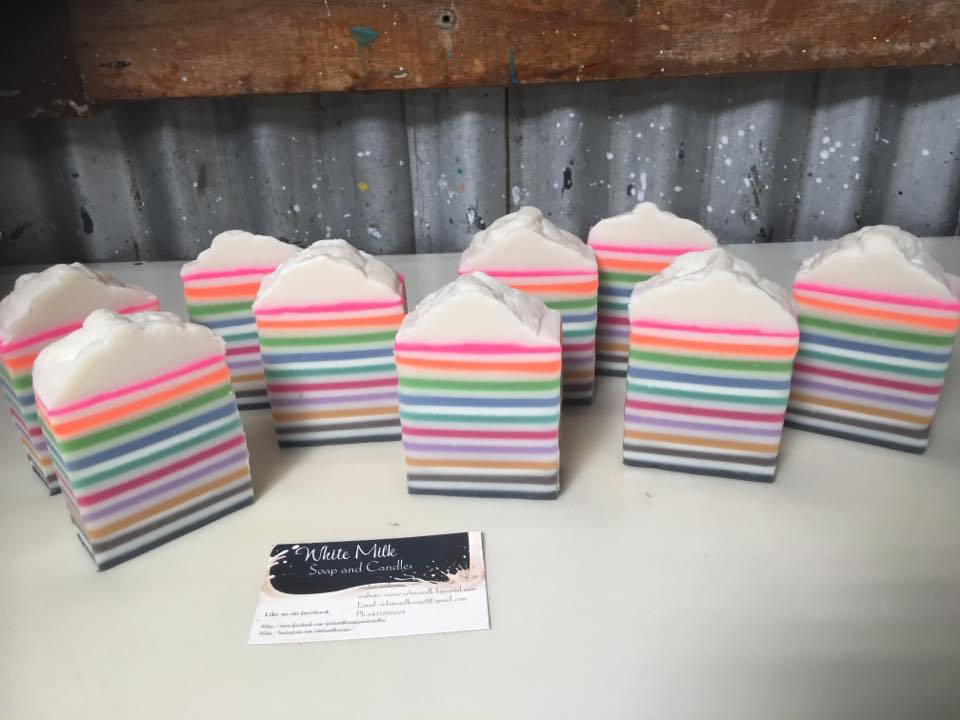 These should be super fun!!! I am so grateful to our sponsors for their absolutely amazing support over the past 4+ years that we have been doing the Soap Challenge Club every month. I couldn't have done it without them!! I am also grateful to all of the fantastic soapmakers who have found the challenges inspiring enough to keep coming back for more! I will miss you all and the inspiration you have given me as well. It has been such a rewarding experience! I wish you all the very best in your soapmaking journeys.
Registration opens Monday, October 2 for these last three challenges! More info on the Current Challenge page. Be sure to sign up for the notification if you haven't yet: