Re-formulating My Cold-Process Soap Recipe, part 2
If you missed part 1, you can read it HERE.
After hearing back from my readers, my thoughts about lard and tallow are definitely being challenged! I have been learning about the benefits of both from Katrina Kimball of Sego Lily Soap and Erin Burke of Modern Girl Beauty. Anita Faulkner from Sadie's Mission Soaps said the majority of her customers have no issues with (beef) tallow, and suggested that I substitute tallow for lard in my previous recipe. So, after the input from these fine ladies, I decided to decided to go ahead and try beef tallow for my next test recipe!
The recipe is nearly the same as the last one, but I went ahead and increased the tallow to 30%, decreasing the shea butter and castor oil. This is the recipe I used for Bergamot Mandarin:
30% tallow
25% olive
25% coconut
10% shea butter
5% castor
5% avocado
(0.8 oz. fragrance per pound of oils)
6.5% superfat
33% lye solution
(meant to add sodium lactate, but forgot!)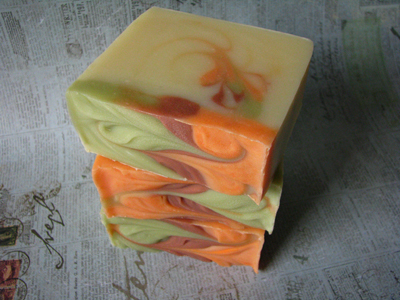 Observations:
1. The soap took awhile to trace, but once it did, it set fast! At first I thought maybe it was the fragrance that I had never used before, but then I tried a similar recipe with essential oils that I knew wouldn't speed trace and the same thing happened again. I think I just overblended – both times.
2. The texture of the soap batter was a little weird, for lack of a better word. It was almost as if it was coated in oil. I don't know how else to describe it. By the time I was getting the colors mixed and poured into the mold, the soap was setting up pretty quickly and I was spooning most of it – especially on top. The batter would just slide right off the spoon. Like I said, a bit WEIRD.
3. After six days, the lather is amazingly dense and creamy: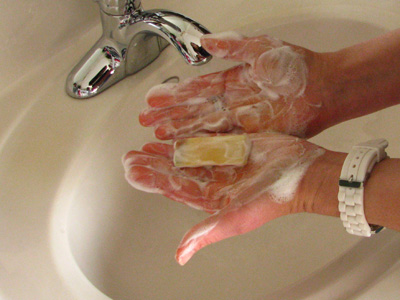 Soap Qualities:
Hardness: 47 (recommended range 29-54)
Cleansing: 19 (range 12-22)
Conditioning: 49 (range 44-69)
Bubbly: 24 (range 14-46)
Creamy: 32 (range 16-48)
Iodine: 52 (range 41-70) – lower = harder bar
INS: 156 (range 136-165) – higher = harder bar
So how does it compare to Formal Affair (recipe #1)?
According to SoapCalc, the tallow recipe should be a harder bar. But I used sodium lactate in Formal Affair that won't reflect the hardness in SoapCalc. The lather in Formal Affair is getting more dense and creamy as time passes. Here is an updated lather test, showing the improvement:
I still have more work to do! I'm open to suggestions, and I will keep you posted on my results.