Rainbows and Unicorns – Oh My!!
The Soap Challenge Club was given the task of creating a cold process soap with at least six rainbow colors and one unicorn element. Micas and glitter were the only embellishments allowed, but really what else do you need if you have plenty of sparkle? Members were super creative with their soaps! We had two categories for this challenge: experienced and newbie. Experienced was defined as having made soap for more than two years OR more than 50 batches. Anyone else was considered a newbie. The newbies were extra light this month – only six entries! Lovin Soap sponsored the newbie category with some amazing gift certificate prizes. If you haven't checked out their website, it is absolutely brimming with resources for soapmakers – both new and experienced.
The experienced category was sponsored by Nature's Garden, also providing some fantastic gift certificate prizes. If you're looking for ingredients for soap, candles, or other bath products, Nature's Garden has one of the largest selections – particularly fragrances! Thank you so much to our sponsors this month!!
Now, let's get on with the winners! Starting with the experienced category, the competition was pretty close but grand prize goes to Belinda Williams of Love Your Suds in Canada for her soap entitled "The Last Unicorn". It is a brilliant piece of art! She put it together over the course of two weeks in multiple stages to create the final result you see here:
Congratulations on winning a $100 gift certificate from Nature's Garden, Belinda! She's been an outstanding member of the Challenge Club since she was a newbie, winning a top 3 spot two other times, and Sponsor's Choice twice also! Please click on the photo of her soap to read and see more about her process in making this amazing soap.
Second place goes to last month's winner, Maja Zuvela-Aloise of Bubbledream in Austria! Maja has worked some soap dough magic with her beautiful "Rainbow Mane" soap:
Maja wins a $75 gift certificate – awesome job!! Click on the photo to see how she put it all together on her Facebook page.
In third place we have Debi Olsen of Me Do It Meself in Colorado. Debi has also been a faithful member of the Club since she was a newbie. She likes to push the envelope of design and has placed in the top 3 six times now. Debi's whimsical 3D Unicorn soap is aptly named Uni-Cutie-Corn! See how cute it is:
Debi's prize is a $50 gift certificate! Way to go! Check out her instagram post with more photos of her soap by clicking on the photo.
Finally, Deborah Ward of Nature's Garden has chosen Shauna Veilleux-Shultz in Pennsylvania to receive their Sponsor's Choice prize!! Deborah says this about Shauna's soap: "This soap truly has personality, and makes me happy just looking at it. This soap took imagination and skill at many different levels."
Excellent work, Shauna! She has also been part of the challenges for quite some time and I've watched her improve with each one! Her prize this time is a $25 gift certificate. Shauna's pinterest board is linked to her photo so you can see how she made her soap.
How about those newbies? Congratulations to Erin Scott in Ohio for her grand prize winning soap, The Lovers, the Dreamers and Me!! It's such a beautiful compilation of rainbows and unicorns with fabulous horns and manes flowing with flowers:
Erin wins a $100 gift certificate from Lovin Soap – woo hoo!! She has been with the Club for the past four months, honing her mad soaping skills. See the different soap designs she played around with for this challenge by clicking on her photo.
In second place we have Samantha Fiore of Lather & Glow Soap Co. in Canada! This was Samantha's very first challenge and she jumped right in and created a winner. Here is her super cute soap:
Samantha's prize is a $75 gift certificate. Be sure to check out her Instagram post by clicking on the photo and see how many things she did for the first time because of the challenge!
Third place goes to Theresa True of Raven Ave Handmade Soaps in Indiana with her fancy Unicorns and Glitter soap! Theresa is another first timer who took this opportunity to literally shine:
She wins a $50 gift certificate for her efforts! You can click on the photo to see her slideshow on how she made the soap (best seen on a mobile device).
With just six entries, there were only three left for our sponsor to choose from and of course it was impossible to leave anyone out, so they didn't!! All three remaining entries will receive a $25 gift certificate from Lovin Soap!! Congratulations to Sara Hart, Chad Vickers, and Jane Whipp for pushing yourselves to do things you had never done before with soap and put your work out there.
If you'd like to see their entries, just visit the Newbie category HERE, and the rest of the Experienced entries are located HERE.
In my last blog post, I announced that these would be our absolute last three challenges in October, November and December. I've received so many wonderful messages from former and current members wishing me well and thanking me for doing the challenges the past four years. I will most certainly miss this!!
The good news is it's not too late to get in on the final two! Registration for the November & December challenges will open Monday, October 30. Our guest teacher for November is Joanne Watkins of Nature's Potions Handmade Soap with another amazing fluid pour technique called the Dirty Pour. These are the soaps she has created for the tutorial with this technique:
We will have a voted category and a juried category. You can read more about that on the Current Challenge page. I just made my first practice batch yesterday and will be making another one today with a few changes based on what I learned from that batch!
For December, our guest teacher is Toni Watt of White Milk Soap & Candles and she will be demonstrating Straight Line Designs. These are some of the incredible soaps she has made with this technique in the past: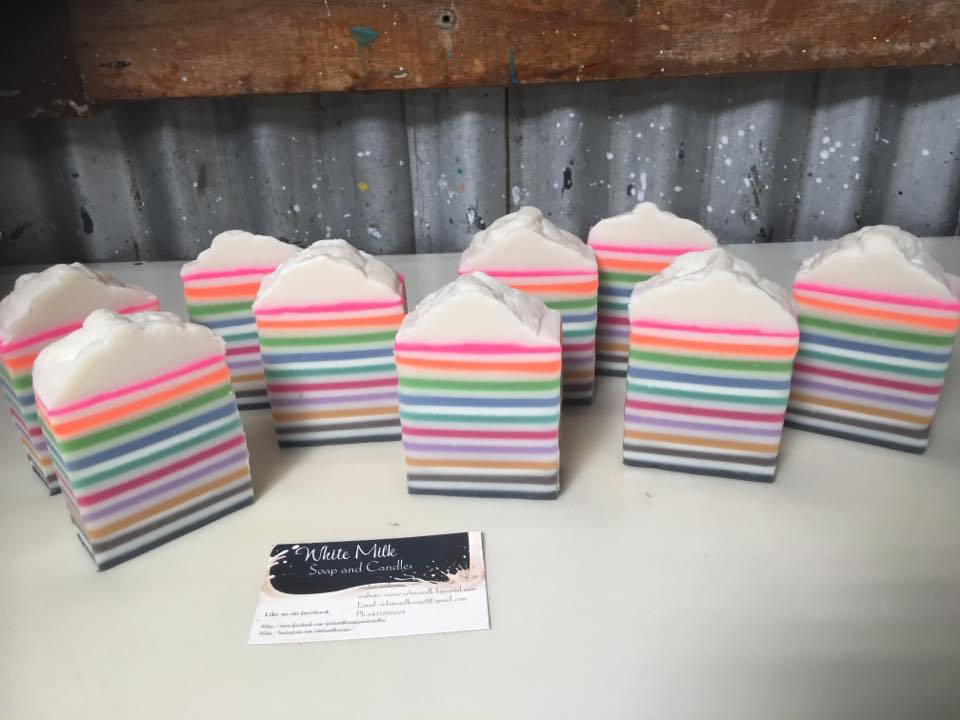 This will be one big challenge with some really fun prizes from many of our sponsors, including some great coupons and prizes just for entering! You won't want to miss it! Get signed up for notifications about these challenges if you haven't already: