On the Curing Rack: Raspberry Porter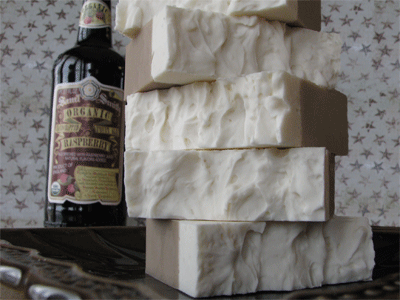 Remember the beer fragrances that Brambleberry came out with several months ago? Well, if you don't, I'd say they probably have the corner on the market. Where else can you find fragrances like Oatmeal Stout, Pumpkin Lager, Honey Ale, and of course – Raspberry Porter? I received one-ounce samples of each as a thank-you gift for participating in their SOAP panel last fall, and I'm finally getting around to putting them in some soap!
Now, I don't drink alcohol, but I'm guessing that if I did, I could probably handle an organic raspberry beer. (Sounds like a girlie drink, doesn't it?) I went to a local liquor store to find some specialty beers, and they hooked me up with this lovely Organic Raspberry Fruit Ale. I didn't even know there was such a thing as organic beer! I also picked up some oatmeal stout, which is made locally, and some honey ale. (Apparently, they sell out of pumpkin lager well before October.)
Before adding the lye, I made sure to cook the alcohol out of the raspberry ale and chilled it in the refrigerator. You can see my methods for making beer soap here. I knew the beer would turn the soap brown, but I was hoping to get a tinge of purple with some ultramarine purple and blue oxides. Either I didn't use enough, or the brown was just too powerful for my oxides because the brown won! The Raspberry Porter fragrance smells more like what I would imagine a sparkling raspberry cooler would smell like. Very refreshing!
Now for the foam, I used Nizzy's Whipped Soap method, creating a recipe of 60% shea butter, 30% coconut, and 10% olive oil. I hadn't done this method before because I was afraid of using my KitchenAid to make soap since it's the one we use for food. So I figured I would just whip the oils in the KitchenAid, then transfer them to one of my pyrex soap cups and add the lye. I used the whip attachment on my old stick blender to blend the lye solution into the whipped oils. It worked perfectly! I didn't add any color or fragrance, just spooned the whipped soap onto the beer soap, and the two melded together. In fact, I was surprised at how much the whipped soap heated up! I covered the top of the mold with plastic wrap, and it formed condensation inside, so I took the plastic off and lightly covered it with some freezer paper instead.
Now I'm looking forward to the next SOAP panel! Brambleberry is looking for more soapmakers to test some Spring floral fragrances, which I would love to do again. Hopefully I proved myself worthy after the last round. 🙂