My Top 5 Takeaways from the HSCG Conference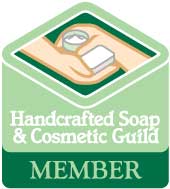 The Handcrafted Soap & Cosmetic Guild held their 20th annual conference in Atlanta, Georgia last week. I've been making soap since 2002, been a member of Handcrafted Soap & Cosmetic Guild for nearly six years, and this was my first time attending this national conference! It's always great when you can come together with like-minded folks and talk shop. The best part was meeting online soaping friends in real life, including some of the participants from the Soap Challenge Club!
I attended some amazing presentations on topics that ranged from product demonstrations to business information. Here are my top 5 takeaways:
1. Customer Experience is King. Charlene Simon, president of the HSCG and owner of five different businesses, mentioned this during a Business Q & A Session, and it really struck me that I can do way better at this!! For example, the new white 4-pack soap boxes weren't really designed with the customer in mind. It saves me time and packaging, but I didn't really consider whether my customers would appreciate them. I haven't received any negative feedback about them, but I'm definitely thinking about what it would be like to receive soaps that are packaged that way.
2. I have a Product-Based Business, when I should have a Market-Based Business. Perhaps you can relate. Sharon Czekala of Great Lakes Natural Soap Company posed the question, "Do you make products because they are fun to make and then try to find someone to buy it?" (I know, rang true for me!) "OR have you chosen your target market and only make products with them in mind?" Doesn't sound very fun, does it? Key point: No one says you can't make products for fun – just recognize that you've made it for yourself and don't try to sell it just because you made it! It's important to start with choosing your target market.
3. Additionally, product lines should be no more than 6 different scents or types. That's it!! Any more than that and the customer gets overwhelmed by the decision and won't buy anything. Several people in the audience who attended this presentation by Sharon Czekala attested to this as well. Sharon suggested looking at your sales report each year and keep the products that were in the top 20% and cut the rest. (As an added bonus, Michelle Rhoades of Mossy Creek Soap informed us in a different session that 65% of people like the color blue, so it's not a bad idea to include blue in your color scheme – whether it's the product itself or perhaps your branding or packaging.)
4. It's possible to make transparent detergent-free melt & pour base from scratch with up to 8% superfat in 15 minutes!! (You might have seen my post on Instagram about this.) Dr. John Mikrut shared his process with us. It's fascinating!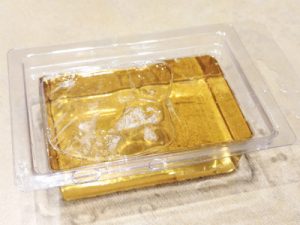 5. My passion is teaching soapmaking techniques and I miss it!! I don't know if the Soap Challenge Club will ever start up again, but I hope it does! David Fisher gave a presentation on blending passion with profit, and when I think about what I truly love, teaching is the first thing that comes to mind. If you miss the challenges as well, I would love to hear from you!
I would also love for you to leave a comment about what your biggest takeaways were if you attended the conference also! I'm so glad I went and hope I'm able to make it to Dallas next year!