How to Ship Packages from USPS.com
I offered to do this tutorial for another soapmaker, but I think it's for anyone who wants to send packages out for the holidays without standing in long lines at the post office. Benefits include: free boxes from USPS, discounted online postage rates, and free mail carrier pick-up. The best part is, once you set up your account, you can continue to use it! The only piece of "equipment" you need is a scale to weigh your packages. Soapmakers all have scales, but not everyone does. You can buy a regular postal scale, or just a kitchen scale if you don't have one already. (The bathroom scale probably isn't quite accurate enough!) I have a MyWeigh KD7000 which is readily available on Amazon or Walmart.com.
One caveat: You can only purchase Priority Mail or Priority Mail Express postage at USPS.com.
USPS has become the most economical way to ship small to medium to large size packages quickly with their flat rate and regional rate services. Anything that is too large to fit in a flat rate or regional rate box is probably better off going UPS or FedEx. You can get flat rate or regional rate boxes for FREE when you order them on the USPS website. They get delivered straight to your door. Postage for flat rate boxes can be purchased from the post office, but postage for regional rate boxes MUST be purchased from USPS.com. Flat rate boxes cost the same amount no matter where you send them. Regional rate boxes are a discounted rate, but their charges vary depending on the destination. You can check which one is more economical by using the online postage calculator.
I used to print my labels on regular white paper and tape them on with mailing tape, but now I purchase mailing labels from OnlineLabels.com HERE.
Once you have all your supplies, package your boxes and weigh them. Now you are ready to print your labels! First, you'll need to go to USPS.com and register for your account. (You can click on the screenshots to see a larger image):
Once you have signed into your account, move on to Step 2:
On the next page, it should show your return address info at the top. You will need to fill in the destination address, etc for Step 3:
Scroll down to enter the package info: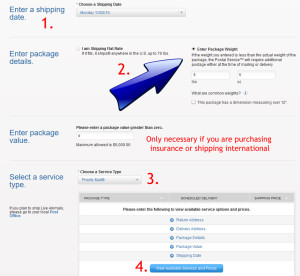 1. Enter a shipping date. It defaults to the current date.
2. Enter package details. You will need to enter the weight of your package if you are using a regional rate box.
3. Enter the package value. This is only necessary if you are insuring your package or shipping overseas.
4. Select a service type. It defaults to Priority Mail, which is what you need for regional rate shipping.
5. View available rates and services – Final step!
Once you click "view available rates and services", you will be able to see a list of shipping options with their prices:
This photo doesn't show all of the options. You'll need to scroll down (using the blue scroll bar) to find the regional rate box options:
Once you choose the method you are shipping, you can click on the "Add to Cart" button. This will take you to payment info. Choose "Add New Card" to pay with a debit or credit card OR you can pay with paypal:
Next is printing your labels. For the first step, I always choose "Print labels without receipt" so I can get 2 labels on one sheet. You will still get a copy of the receipt via email. Even if I don't have more than one to print at that moment, I can re-use the label sheet the next time. After clicking on the blue "Print Labels" link, your printer interface should pop up. If you are printing on label sheets, be sure to select "labels" at that time so your printer knows what material you are using. If you are using regular paper, just print like usual. You can also schedule a carrier pick-up on this page. Another perk of printing your labels online! (Unless you live in a rural area that doesn't support it, or you don't have a place to leave your package for your mail carrier.)
That should do it! If you can't schedule a carrier pick-up, just drop your package at the post office and you're done!
Updated: November 2, 2015