After visiting Courtney Robyn's "Nest" a couple weeks ago, I realized that Courtney has a wealth of information on some interesting subjects, so I contacted her to learn more about the dental soap and tooth cleansing powder that she makes for her family. She has some great ideas and information on her blog that you will definitely want to check out!
Hello, my name is Courtney and I was graciously invited to share one of the things I make here at home. Tooth cleanser! It is all natural, gentle, fairly inexpensive, and importantly (for my family) fluoride free. I have chosen to stop the use of fluoride in our dental products for various reasons upon researching the subject. There is much research and studies out there on the subject,* often with differing viewpoints; for me the evidence pointed overwhelmingly to it being harmful to one's health with very little benefit. So, ix-nay on the fluoride, but you will not hear me judge someone on the other side – to each their own. I'm not too cracked on the "natural" toothpaste alternatives either by the way. Many brands are filled with silica, SLS, and artificial sweeteners. I figured I could make our own; then I would know and approve of exactly what went into it.
**Initial Disclaimer: This tutorial and recipe is provided for personal use. It is not intended to replace any medical treatment. Always follow your personal physician's advisement. When working with essential oils you must exercise caution and be educated in their uses; they are volatile substances and improper use may result in injury. Pregnant women and young children should also take special care with the any application of essential oils. The following recipes and statements have not been evaluated by the FDA.
Okey dokey – on to the fun and messy stuff! Here is how I made my dental soap and tooth cleansing powder:

Part One: Basic Cold Process Soap suitable for Oral Care
10 oz Almond Oil
10 oz Coconut Oil (extra virgin is nice for this since it has a bit of natural sweetness)
3 oz Lye
6.6 oz Water
Essential oils of choice (I used peppermint and clove, about 25-30 drops added at trace)
Process soap as normal (meant for experienced soap makers). I CP-OP my soap for a faster cure time. Feel free to play around with the recipe and size. Always run any formula through a lye calculator.

This soap can be used as-is for those going for extreme frugality and simplicity. Yes it is soap. Yes it tastes like soap. But . . . it is surprisingly mild tasting. I wasn't frothing at the mouth like a rabid dog or gagging. Two key points are to brush your tongue before applying soap to your brush (if you do that) and to rinse very well afterward. Rinsing is key to oral hygiene anyway. Two or three swipes across the soap bar with your moistened brush are sufficient.
Part Two: Chomper Polish Powder
The goal here is to create a dentifrice that is cleansing and refreshing with a bit of mild, natural abrasiveness for tartar and plaque. For some people this will be used daily, others may want to alternate one day powder then one day plain bar soap and so on. Once your powder is mixed up it is only necessary to use a SMALL amount on your moistened brush. A little goes a long way for sure. We're talking pea-sized or less.
Here are the basic ingredients: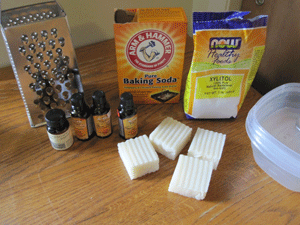 (This made a larger batch which I plan on sharing with family and friends. Decrease amounts if you are unsure if this is going to be the product for you to reduce waste.)
Baking Soda 5.5 oz
Xylitol 6.5 oz (An all natural sweetener and proven ingredient to aid in cavity prevention along with encouraging natural remineralization of tooth enamel. Effective alternative to fluoride. Can be purchased from a health food store or online)
CP Soap from above 2.5 oz
Essential oils for flavor and therapeutic benefits (I used spearmint, peppermint, clove, and a bit of lemon – good starting point is approx. 30 drops combined and go from there to increase concentration to suit your tastes; remembering that you can add more but you cannot take it back out!)
1. Using Ye Olde Knuckle Grinder aka Grater, shred up your soap bar into more manageable pieces for your food processor.

2. Add soap shreds to processor and pulse to break up.

3. Add baking soda to help keep it dry as you pulse.

4. Add xylitol and continue to pulse and mix. Once fairly small and blended you can add your essential oil drops. Try to place drops all over instead of making one large damp spot. It will mix better. Pulse more to finer consistency. You should not have large beads of soap. (FYI soap pellets are not fun stuck in a molar . . . Rinse, I say, Rinse!)

Voila! Tooth powder/Chomper Polish. I haven't tried it, but for anyone who has an aversion to mints or sensitivity to essential oils –they could probably use a flavor extract/concentrate in its place. For my powder I noticed it was a bit moist? I am not sure if that is the exact word I'm going for. It could be the humidity. It isn't damp by any means – just sort of the feel of brown sugar. It should probably be left open in a cool, dark, DRY, and bug free place for a day or two to evaporate the excess moisture out. Then package as you choose. If it is for your own personal use you can do small tupperware or storage bags. Probably best to use smaller containers of it at a time to prevent any contamination of your entire batch.

For best results, sprinkle or spoon it ONTO your toothbrush. Like, don't double dip the chip, man! Again, I recommend a pea-sized amount or less. This stuff lasts a long time! Please make sure to give it a fair chance. Despite the soda, flavoring, and sweetness of xylitol there will still be a hint of soap flavor. Within three days of using I was used to it and enjoying it. Now the cloying, pasty, thick, overly sweet gunk that comes in a tube grosses me out.
Well, that is it. I tried to be efficient but these tutorial things have a way of growing . . .
I hope you enjoyed and get a bit of use from this. I give a big thank you to Amy for letting me visit her blog and to all the crafty folk out there who contributed knowledge in some form or another to create this product.
Cheers ~ Courtney
*For more reading:
Organic Dental Care | Xylitol – better than fluoride
Toothpaste: hazardous to dental and bodily health?