Check Out These Amazing Floral Design Soaps!
We had a great group of soapmakers participating in the Flower Power Soap Challenge Club this month! The challenge was simply to create a floral design with cold-process soap. There are lots of choices for this type of technique, including piping, embeds, cut-outs, etc. Be sure to click on the photos of the winning soaps to learn more about their soaps and how they created them!
Our grand prize winner invested a lot of time and thought into creating her masterpiece of soap entitled "A Flower Path To…". Congratulations to Maya of Infusions blog in Tokyo, Japan, who will receive a $50 gift certificate from Brambleberry for this work of soap art: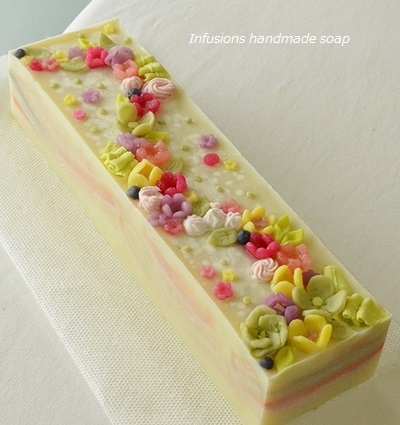 Second place goes to a new member of the Club, Katrina of Sego Lily Soap in Utah with her beautiful lilac soap:
Our third place winner is Zahida from Florida with this gorgeous rose covered cake:
Second and third place winners receive free registration to next month's Challenge Club which will begin again on Monday! I'm sure you'd like to see the rest of the Challenge Club floral design soaps, so be sure to check them out HERE.
For next month, we will be doing Oil & Glycerin Swirls on top of cold-process soap. You can do this with either a slab mold or a log mold. Here is the soap I will be demonstrating for the Club:
Any soapmaker can join the Soap Challenge Club, whether you decide to compete for the prize or not. Many join to learn a new technique, push their skills, get encouragement and feedback – and get to know other soapmakers from all over the world!
Our sponsor will be Nature's Garden! They will be providing a $50 gift certificate to our grand prize winner. Again, registration will open Monday. If you are signed up to receive Soap Challenge Club notifications, you will be the first to find out when it opens. If you would like to be notified, sign up below: