Yes, I did make the Winter Wonderland soap on Tuesday, cut it and took pictures yesterday that I posted on Facebook, but now have a few moments to post here. It's the same great fragrance from the last two years, and mostly the same color palette as last year, with a few small tweaks. Because I love to experiment!
Since I had some electric bubblegum colorant left from the Magma soap project, I decided this would be a great time to test it out in cold process soap. Last year I used some pink micas that were less than stellar. I really like the way these pinks turned out – one light, one dark. Last year's soap was also made with an in-the-pot swirl that was pretty cool, but I wanted to see what it would look like with larger patches of color.
The greens are the same micas that I used last year, and I think they are perfect! The color palette reminds me of this super cute basket box from Nashville Wraps: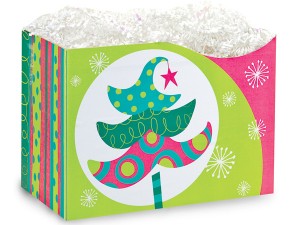 Oh, and the scent blend goes something like this: Top notes of citrus, including grapefruit, orange, bergamot, and lemon. The refreshing heart is composed of violet, cyclamen, bois de rose, muguet, pineapple, and a hint of gardenia. Base notes are citronella, sandalwood, jasmine, and musk. Super fresh, clean scent!
Winter Wonderland Soap will be available at Greatcakessoapworks.com on December 4th!