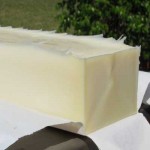 Normally when I make soap, I use the cold process method. This means that once the oils and lye solution are combined, I do not heat up the soap batter. I simply pour it into the mold lined with freezer paper, cover with plastic wrap and some towels, and let it set up overnight. The first picture shows how it usually looks when I remove it from the mold. Nice, smooth, beautiful soap.
But what happens when you add a fragrance in your soap that creates instant solid soap, or as the soapmakers say, seizes the soap? Let me tell you a story.
I've had one customer who has been missing her apple soap. I made one called "Applicious" last summer, and it was a great combination of both red and green apple fragrances. In my notes I mentioned that I "hardly had time to stir in the green swirl color before I glopped it in the mold." Ok, so I remember being able to add a swirl color and the soap did turn out pretty great, right? This time I figured, why not make a double batch of this? I'm sure it will sell.
From previous experience I knew it would start to set up quicker than normal, but with double the amount of soap, I had no chance of getting it in the mold at the rate it was going. I was even going to add a green swirl again. Ha! I glopped and mashed to no avail.
Here is where you need to pay attention, soapmakers. I had to dig it all out, put it back in the pot and stick it in a warm oven (220 degrees for about an hour or so for this double batch) to help it loosen back up. Now if I had been smart, I would have skipped the step where I attempted to get it in the mold and put it straight into the oven. This is now called hot process soap because I added heat to it.
It didn't look very nice before I cut it. The great news: the soap still smells awesome and it won't take quite as long to cure. The not-so-great news is that the texture won't be quite as smooth as the cold process soap.
However, it did turn out with a rather interesting mottled appearance, and I spiffed it up even more with the powdered mica stamp. Some soapmakers use this technique with all their soaps to speed up the curing time, or because you don't need to add as much fragrance if you add it after heating up the soap. It's definitely not my favorite way to do it, but it sure helps save the seized soap.